Support & warranty
Questions and personalised advice
We're not a big ecommerce business who's hard to reach and doesn't care. One of the reasons we started IC is because we hate that nonsense! No matter where you are on your audio journey, we're happy to have a chat. It could be to understand some functionality better, get a recommendation about the right product for your needs, or to discuss any other question on your mind!
It's important that we see you with the right solution, and that won't always mean buying something from IC.
If you do decide to order from us though, the relationship doesn't stop there. We're here to answer your questions and troubleshoot any issues or faults you may have.
Think of us more as buddies here to help with your audio. Whether it be on WhatsApp, livechat, mobile or email - whatever suits.
You'll talk directly to one of our team in Australia. No lousy bots or queues, and you'll usually hear back within an hour during opening hours.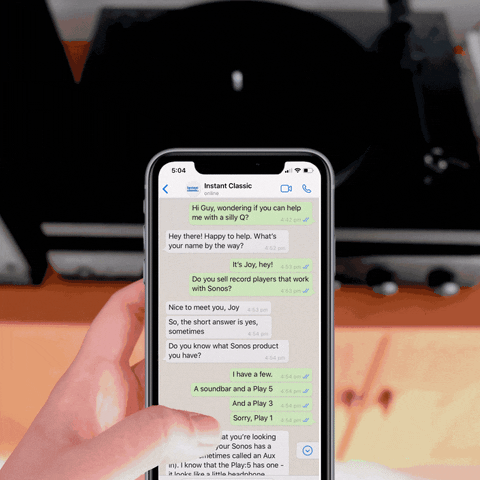 We love Whatsapp - send us your favourite gifs!
Warranty
All of our products come with a minimum 2 year Australian manufacturer's warranty (and longer in some cases), honoured by us as an authorised retailer. That'll protect you against unexpected defects and breakdowns (not caused by physical damage).
If anything happens, just get in touch and we'll get it sorted. Faults are pretty uncommon thanks to the quality of our components, but if something does play up, we want you back up and running!
Realistically though, that kind of warranty is par for the course these days. What's more important is the support you get from your retailer for set-up help, troubleshooting and just general advice as you go.
That's where we like to think we excel. We're here to help you for the lifetime of your product, any day of the week and for any question.
And if you want some extra protection for your purchase, we offer Instant Umbrella - two years of cover provided by us for unlimited accidental physical damage to your sound system. Even if you're not buying an entire system, the Instant Umbrella offer is available for turntable purchases too.
Freight and returns
Click here to see the details of our awesome freight and returns policy.