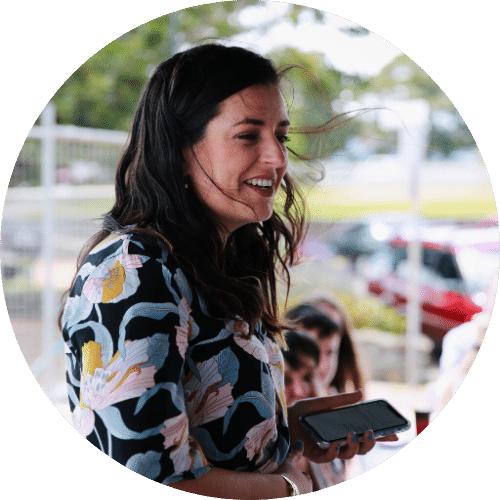 Howdy, I'm Gabi from the Instant Classic team.
This write-up I've done works a bit differently to other online stores. Instead of having separate product pages for each turntable, you'll find comparisons of all of our hand-picked models here together.
The confusion stops now and your education begins!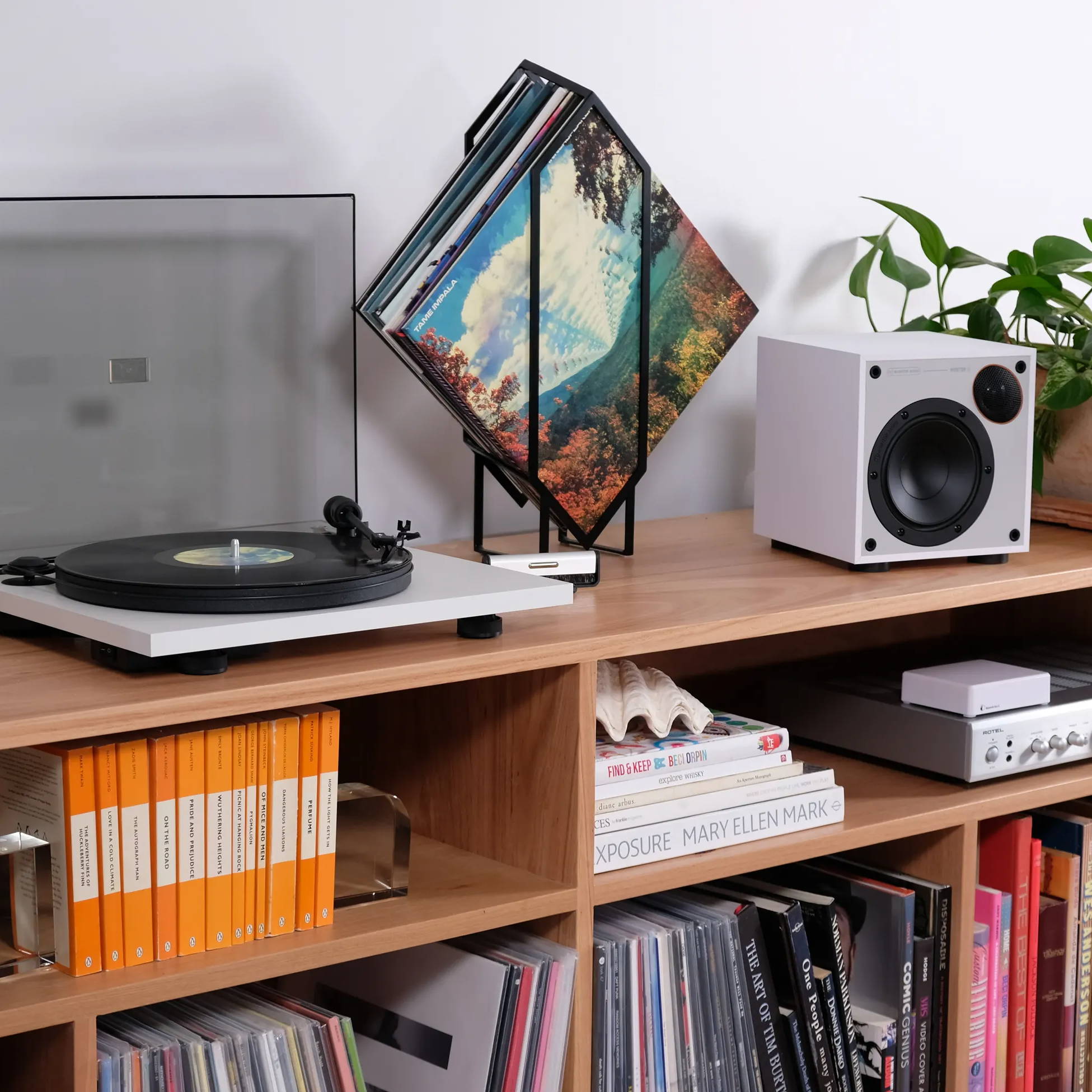 Before we dig in, the turntables on this page are designed to plug into some kind of existing sound system or powered/Bluetooth speakers.
If you're starting from scratch though, I've got just what you need: a complete, matching system with a turntable + amp and speakers. All for silly money!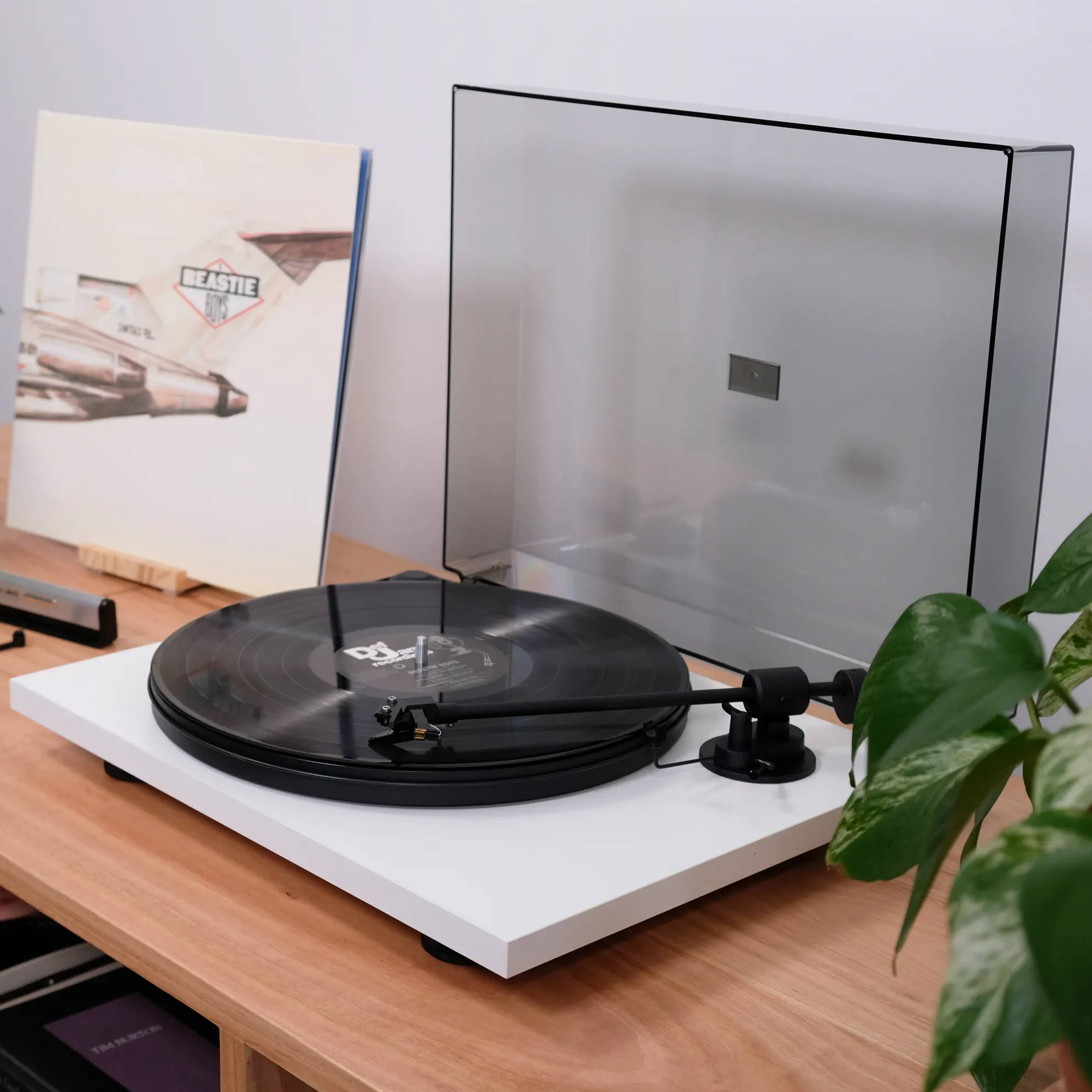 Still here? Nice. First cab off the rank from our turntable range is the Primary E. I'd recommend it to anyone who's on a budget but wants to stay away from plastic-fantastics. It's hand-crafted to extract fine detail from your records, and the build quality for this price is incredible!
Precise tolerances and electronics make the platter spin evenly and at the correct speed. No plastics in the plinth along with shock-absorbing feet ensure unwanted vibrations don't make their way into the signal.
A light aluminium tonearm and pre-fitted Ortofon diamond cartridge pick up the delicate grooves in your records without coloration, and in a way that will be delicate with your precious vinyl collection.
Shifting speeds from 33 to 45 RPM is as easy as switching the drive belt on the Primary E's pulley which takes seconds.
It's hand-made in Czechia (formerly known as the Czech Republic, for those playing at home) by Pro-Ject, the world's biggest and most trusted manufacturer of hifi turntables.
It's a breeze to set up, being a true plug-and-play model with no tonearm adjustments out of the box.
"For purists at the head of the beginner's vinyl revival path... and aren't fussed about features such as record ripping and automatic operation, the Pro-Ject Primary E could be just the ticket."
Speeds: 33, 45 (manual belt change)
Belt drive system
Speed variance 33: 0.8% 45: 0.7%
Wow & Flutter 33: 0.29% 45: 0.27%
Platter: 300 mm with felt mat
Main bearing: stainless steel
Tonearm: 8.6" aluminium
Effective arm length: 218.5 mm
Overhang: 22.0 mm
Effective tonearm mass: 8.0 g
Counterweight for mass: 3 - 5.5g (supplied)
Tracking force range: 0 - 25mN (18mN pre-adjusted)
Power consumption: 4.5 Watts max
Dimensions: 420 x 112 x 330mm (WxHxD)
Weight: 4.0 kg net
We want your turntable to work with your existing audio equipment out of the box (for example, Bluetooth speakers). That's why all of the models on this page are customisable to work with any standard system.
This is the key decision you'll need to make.
Each model is made by Pro-Ject and they share excellent construction in common. But you'll find some really noticeable differences in sound quality between models thanks to the difference in their materials and engineering.
If you plugged each turntable into a sound system in succession, you'd hear noticeable improvements each time - more musical detail, lower background noise and less external interference with each step up.
You'll be keeping your turntable for years, so if you can afford to stretch that bit more to get the next model up, I highly recommend it!
From our experience with selling turntables, there are two universally important options for people no matter what the model.
The first option is for people connecting up to normal stereo systems, powered speakers or systems like Sonos. If this is you, the question is whether you get a 'phono stage'. This is a small bit of electronics that preamplifies the signal from your turntable before it heads into your system, as most amps aren't sensitive enough to take the signal on its own. Check whether your amp/powered speakers have an input labelled 'phono'. If they do, you don't need a phono stage from us - just select 'None'. But if the input just says 'aux' or 'line in', yep, select 'Phono stage' in the dropdown.
The second option is only for people who want to connect wirelessly to their existing Bluetooth speaker (JBL, Sony, Bose, Edifier, Audioengine and so on). In that case, choose the 'Bluetooth sender with phono stage' option. This elegant little device sits next to your turntable and connects to your Bluetooth speaker at a distance of up to 10m. You'll now be able to switch between streaming from your phone and listening to your records on your Bluetooth speaker. Our Bluetooth sender also has a phono stage option built-in, so it's future-ready if you ever want to plug your turntable into a more serious wired system down the line.
Instead of letting you fend for yourself and figure out what options you need to add on to make your turntable do what you want, we've made some handy (and nicely discounted!) bundles that get you going straight away.
When you're flicking through the options, you'll see some models that come with the phono option inbuilt to the underside of the deck, and some that are 'external' - for those, we supply you with the Pro-Ject Phono Box E (only available in black) which connects up the turntable with the supplied cable and isn't much bigger than a deck of cards. For the Bluetooth sender option, we supply you with the Pro-Ject Phono Box E BT which is the same size.
Well, this one's nice and easy :) We've given you access to every colour we can get our hands on. You'll find the biggest range with the new Debut Carbon Evo which has modern satin and gloss finishes to die for. Black and white options are available for the other models.
We won't always be in stock of every colour, and that's just the way things are kiddo - especially at the moment with stock shortages of our turntables across the world. If you see what you like, jump on it! And if your favourite option isn't available, there's enough options to choose the next in line!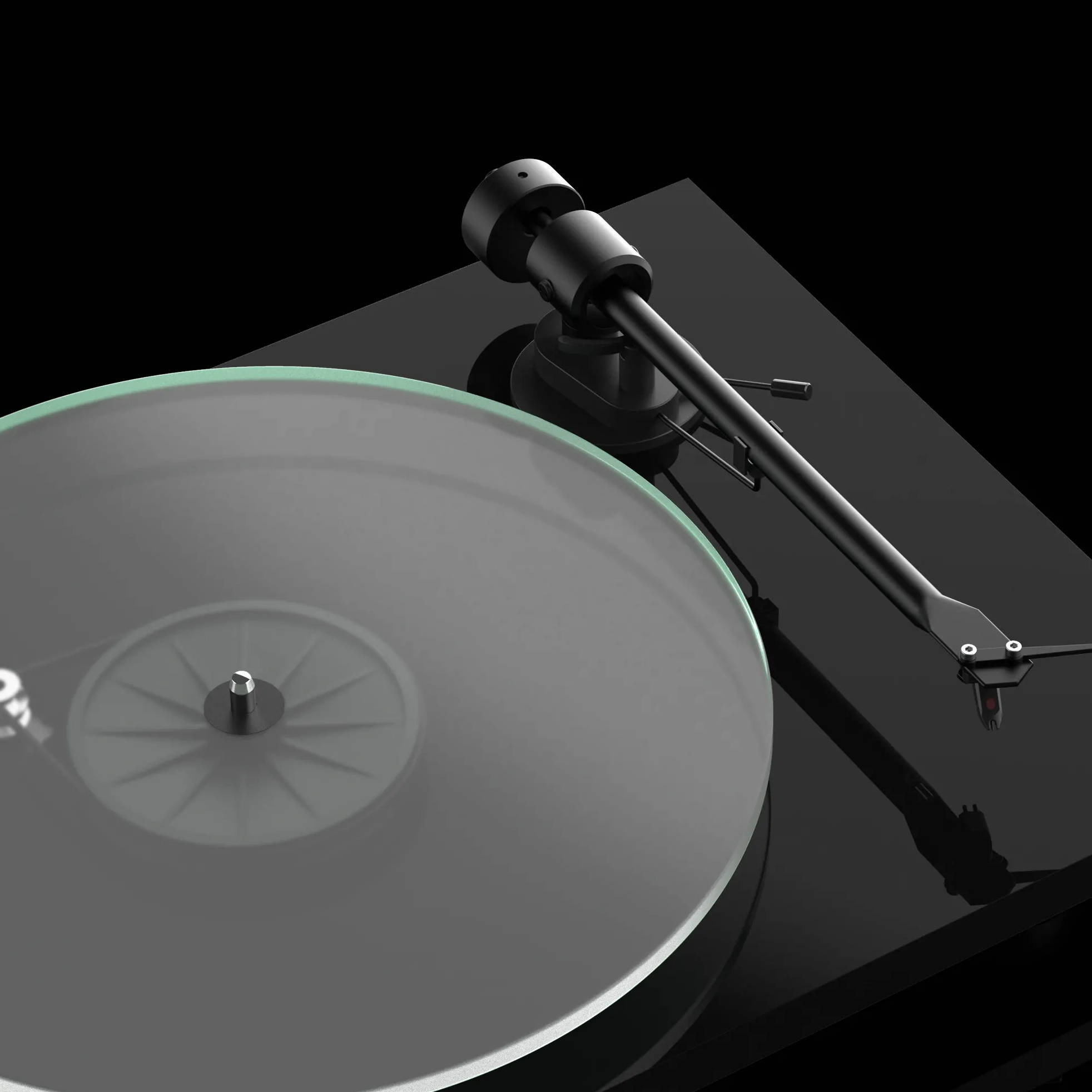 With the T1, we see what a bit of extra dosh gets us in upgrades - and there's a lot! You'll see improvements in the stylus, refined tonearm and plinth construction, a delicious glass platter, hidden drive belt, and electronic speed control.
The stylus (aka needle) moves to an Ortofon OM 5E, with 'E' meaning an elliptical shape as opposed to the Primary's spherical profile. This will dig a bit further into the record groove for capture of more detail.
The tonearm is a bigger aluminium cylinder, giving more rigidity for accurate groove tracking.
The platter which your record sits on is glass, instead of the Primary's composite fibre. Because of the weight of glass, this is good for minimising unwanted environmental sounds getting through from the base of the deck and into the record as it spins. It looks super pretty too!
You'll also notice that there's no visible drive belt here. The construction hides the motor and belt assembly under the glass platter, meaning you won't accidentally knock the belt off the platter when changing records, which does happen on occasion with the Primary (depending on how many drinks you've had).
And lastly, the T1 has an electronic speed control switch. This makes flicking between 33 and 45 RPM record speeds super easy. On the Primary, you need to change the speed manually by moving the belt between two rungs of the motor pulley. Only takes a few seconds, but an electronic switch is a nice convenience.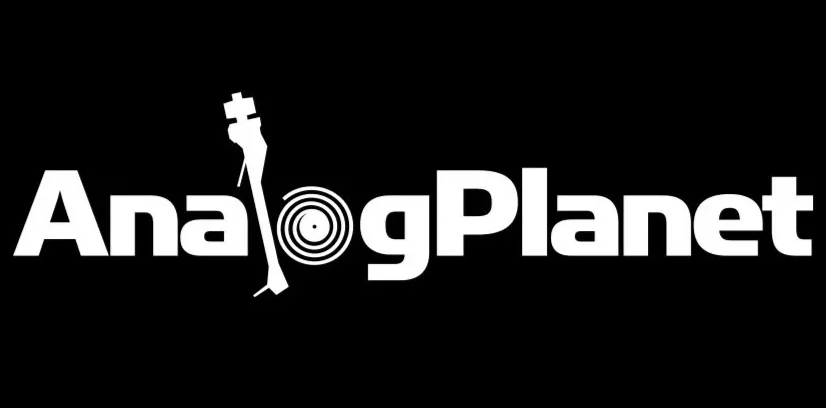 "Everything about this low cost, full featured Pro-Ject turntable impressed: the design, construction, feature set, measured performance and of course the sound. Plus, it really looks great! Made in the Czech Republic. No plastic parts. Easy recommendation."
Speed: 33,45 (electronic speed change)
Principle: Belt drive
Speed variance: 33: 0.7% 45: 0.6%
Wow & Flutter: 33: 0.25% 45: 0.23%
Platter: Heavy 8mm, blasted-glass platter with felt mat
Main bearing: Stainless steel/brass
Signal to noise: 65dB
Tonearm: 8.6" aluminium
Effective arm length: 218.5 mm
Overhang: 22.0 mm
Effective tonearm mass: 8.0 g
Counterweight for mass: 5 - 10g (pre-mounted)
Tracking force range: 0 - 50mN (17.5 mN pre-adjusted)
Outputs: RCA Phono/Line (switchable)
Built-in Power Supply: 110 - 240V/50, 60Hz; 15 V DC 800mA
Power consumption: 4.5 Watt max
Dimensions: 415x100x335 mm (WxHxD)
Weight: 3.8 kg net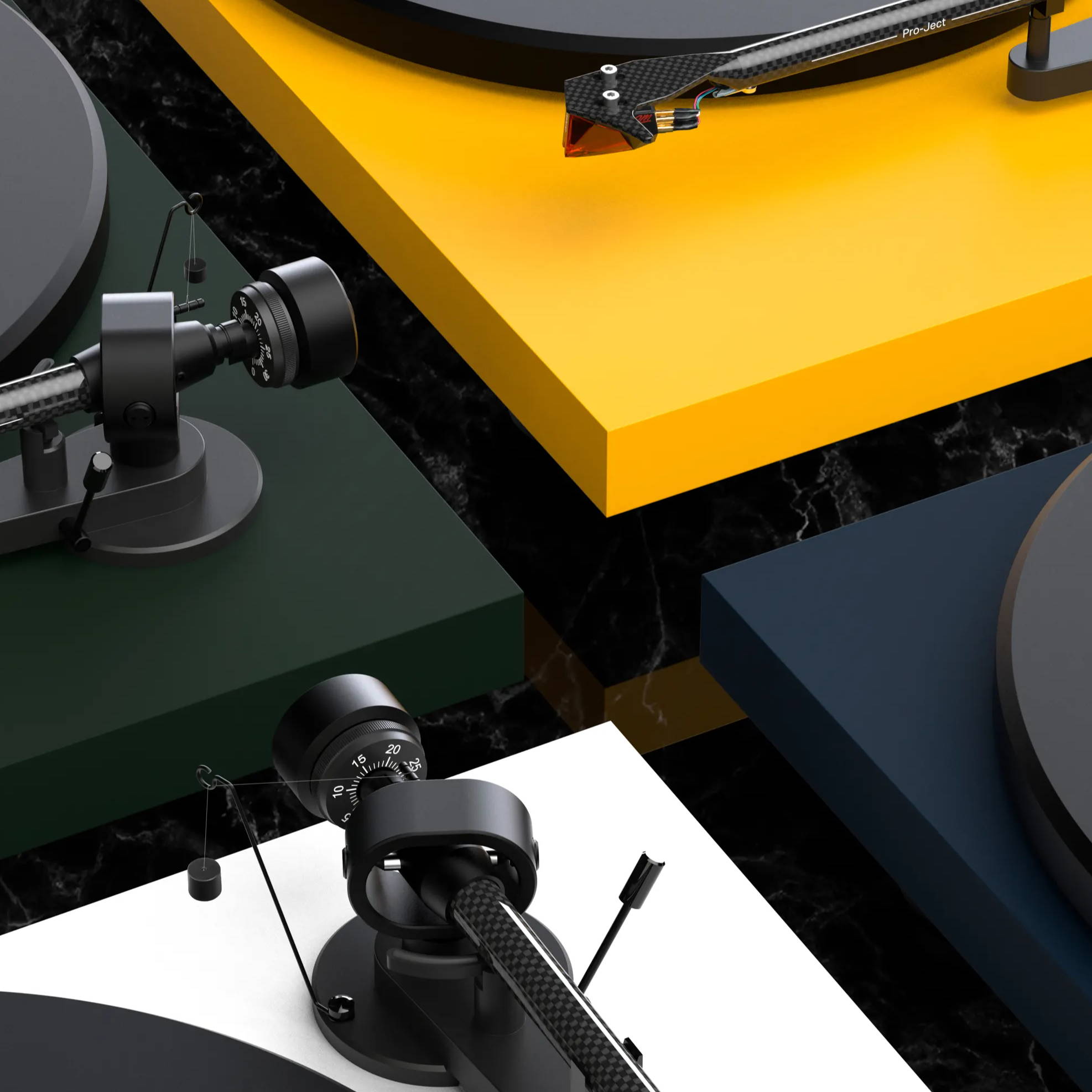 While we're here, it's worth discussing: what's a good turntable all about? Sounds daggy, but the test for me is whether it gives me goosebumps and has me tapping my toes. There are plenty of upmarket decks that do this... the challenge is finding one for a good price.
Vinyl is a cost-effective way to get into proper audio. Some experts argue it it gives a better experience than digital, with a lack of compression and a naturalness that's hard to replicate.
Digital relies on a computerised interpretation of sound-waves. Turntables and records, however, maintain analogue integrity by translating these sound-waves into physical grooves and vibrations rather than 0s and 1s.
I liken turntables to coffee. They can be terrible or wonderful.
Rightly done, they'll produce a brilliant sound and last you a long time. But the bad ones sound gross and can damage your records.
It's all about materials and construction. A turntable is a mechanical instrument that needs to measure record grooves in a delicate way.
Belt drive. You'll often hear about 'direct drive' turntables in the DJ world. For a normal hifi turntable though, you want a belt drive. Here, the motor is connected to the platter with a belt loop which acts to prevent vibration and motor noise from making its way to the record and cartridge. Separation is a good thing in this case.
Resonance-minimising chassis construction. Here we want to make sure the feet, plinth (the chunky base of the player) and platter are made of materials that stop unwanted vibrations from making their way to the record. If a needle is picking up etchings at sub-millimetre scale, imagine what footsteps or a rickety cabinet can do to your tunes? Avoid too much plastic and inbuilt speakers, and make sure you have shock-absorbing feet.
Lightweight tonearm with counterweight and anti-skate. We don't want to 'hear' the arm in the signal, which is why it should be light and move freely. A counterweight delicately balances the weight of the arm so it doesn't all rest on the cartridge and in turn, the record, preventing any grinding and scraping causing bad sounds and bad wear. Anti-skating equalises sideways-forces on the arm, preventing it from riding one side of the groove too heavily.
Precision cartridge and stylus. This is the smallest part of the equation, but arguably the most important! This part is actually touching the record and coming into contact with your music. Here, we're looking for a diamond rather than sapphire-tipped stylus, which will last for a long time before it needs replacing.
This page runs through what makes each of our chosen Pro-Ject turntables so great for the money.
But what shouldn't be inside a turntable is just as important as what is. Here's a summary of the pitfalls often found with cheap, plastic alternatives!
Inbuilt speakers. This is baaaaad. They're small and tinny, so you'll be strangling whatever signal does come out of the record. But also the vibrations being inside the chassis create a feedback loop which goes back into your records.
A tonearm that's too short or made out of the wrong materials. This will interfere with the accuracy of what's embedded in the record. Small platters are bad too - they'll eventually warp your records due to the edge overhang.
Stylus and cartridge that put the wrong pressure on your records or are made out of bad materials. These will distort your sound and potentially damage your vinyl.
Cheaper motors that don't spin precisely in time. You'll hear higher or lower pitch in your music.
Before you jump into reading about each of the different models, it's worth remembering what elements they all share.
Each comes with a dust cover as standard, a Danish-made Ortofon diamond stylus, a felt mat to cushion your records, a 1.2m cable to connect to your sound system, and the ability to play 33 and 45 RPM records (the most common formats). All are hand-made in Czechia by the world's biggest hifi brand, Pro-Ject.
Each step up in model will give you noticeable improvements in sound, but every model is going to give you joy and fabulous value for money by adhering to all of the best practices in design I mentioned earlier.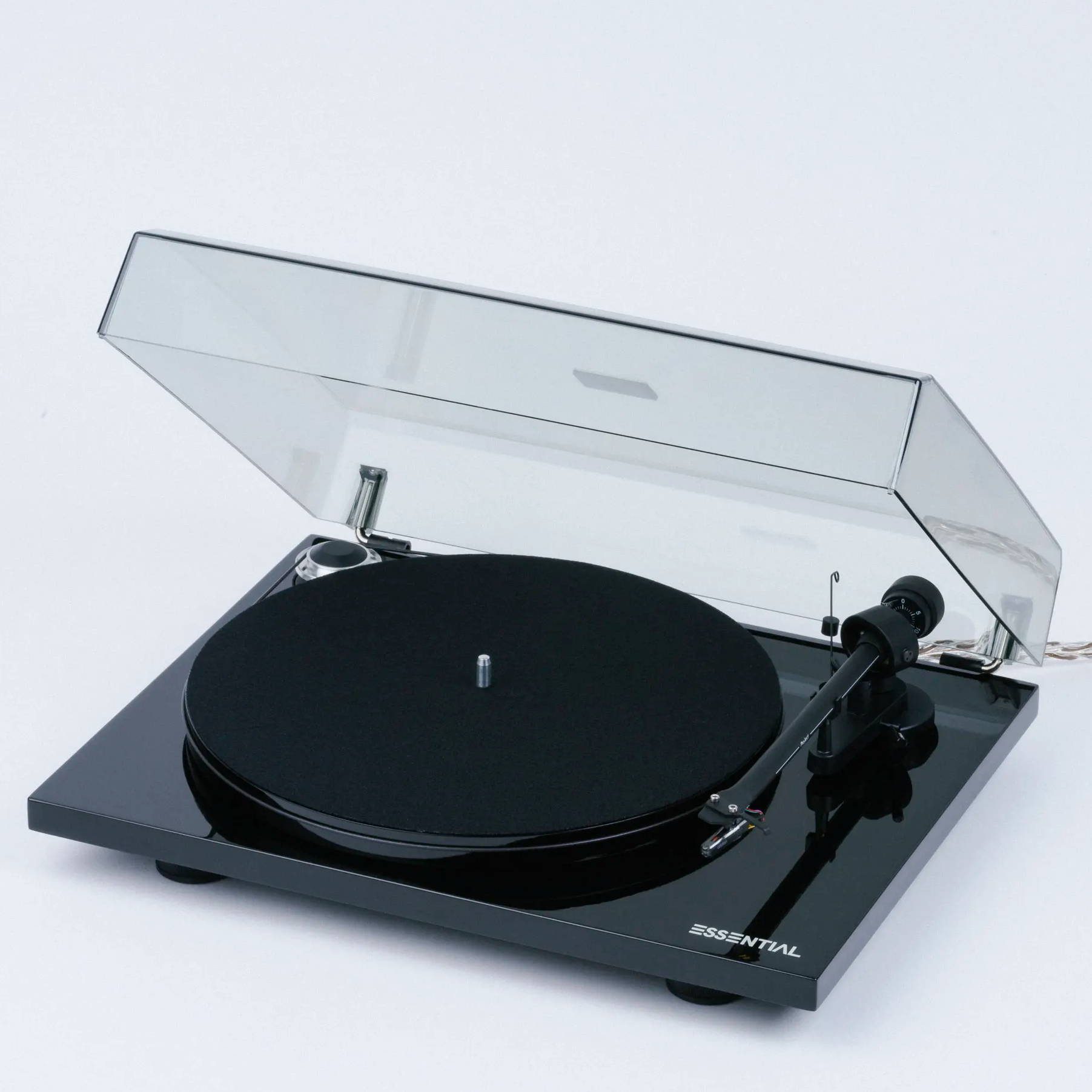 The Essential III is when we start getting into the realm of 'serious' turntables. The big change here from the T1 is in isolation - and not that crappy kind from 2020! MDF construction and decoupled feet are all about putting your deck in a bubble, insulated from outside interference.
Why do we want this isolation, you might ask? Well, turntables are mechanical instruments. When the needle drops into a record groove, it's being vibrated by the microscopic etchings and creating a sound. If you don't have your turntable plugged into anything, you can put your ear up to the stylus and hear the music very very faintly.
Those vibrations are converted into electrical energy by the stylus/cartridge assembly, passed through wires in the tonearm, and then sent out to a preamplifier and amplifier to boost the signal into something that speakers can handle.
This all means the whole assembly is very delicate. Footsteps, finger tapping and reverb from the speakers (if placed on the same surface) can make their way back into the chassis of the deck, getting to the record and into the stylus, creating a feedback loop of interference.
All Pro-Ject decks are good at blocking this stuff out and presenting you with the sweet sound of vinyl which makes us love the format in the first place. But the thicker and denser your chassis materials, the more pure we can get this sound. MDF wood and feet with suspension in the Essential III give us a noticeable improvement here.
Additionally, we get another slight jump up in Ortofon stylus - to the OM 10, giving better 'trackability' (ability to pick up signals without distortion) than those on the Primary E and T1.
The tonearm, too, is improved - with a full counterweight and anti-skate assembly. The counterweight allows for minute adjustments in tracking force... translation = it's future-compatible if you want to swap out the Ortofon OM 10 for something more premium down the line. The great thing with turntables is you can change little elements out to improve your sound over the years without having to buy a whole new deck. Cartridge/stylus upgrades are a big way to achieve this.
As for the anti-skate assembly, this is getting into the realm of serious accuracy. Thanks to our old friend physics, as a tonearm tracks towards the centre of a record, it gradually puts more and more force on one side of the record groove in a phenomenon known as 'inner groove distortion' (all stereo records have etchings into both sides of the groove - so we don't want to put undue pressure on just one side). The anti-skate weight offsets this pressure to keep things nice and even from the start to finish of a record.
Lastly! All of our turntables come with a 1.2m long phono cable to connect your turntable to external stereo equipment (whether that be a pair of active speakers, a Bluetooth speaker or a conventional sound system). The Essential III takes things up a notch by coming standard with a premium version of this cable - the Connect It E, which retails on its own for $99. It has gold-plated connectors and oxygen-free, individually shielded twisted copper wiring. What's this do? Preserves all of the good work done by the turntable when transferring the signal out to external equipment. We've all heard the interference mobile phones can make when held next to some cables and devices, and audio cables are subject to interference like anything else. This premium cable is going to help block the outside world out.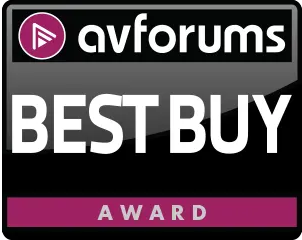 "The Essential III is pitch stable, has a noise floor below that of pretty much any phono stage it is likely to be partnered with and it tracks at a perfectly civilised weight. Beyond the basic statements, the Pro-Ject is the turntable that does the most in its class to bring the benefits of vinyl to the forefront of its performance."
Speed: 33, 45 (manual speed change)
Principle: Belt drive
Speed variance: 33: 0.70% 45: 0.60%
Wow & flutter: 33: 0.21% 45: 0.19%
Platter: 300 mm MDF & felt mat (0,8kg)
Main bearing: Stainless steel
Tonearm: 8.6", aluminium
Effective arm length: 218,5 mm
Effective tonearm mass: 8.0 g
Overhang: 22.0 mm
Counterweight for mass: 3 - 5.5 g
Tracking force range: 0 - 25mn (recommended OM10 18mn)
Power consumption: 4.5 Watts max
Dimensions (lid closed): 415 x 112 x 335 mm (W x H x D)
Dimensions (lid open, 90°): 415 x 365 x 390 mm (W x H x D)
Dimensions (without lid): 415 x 95 x 330 mm (W x H x D)
Weight 5.0 kg net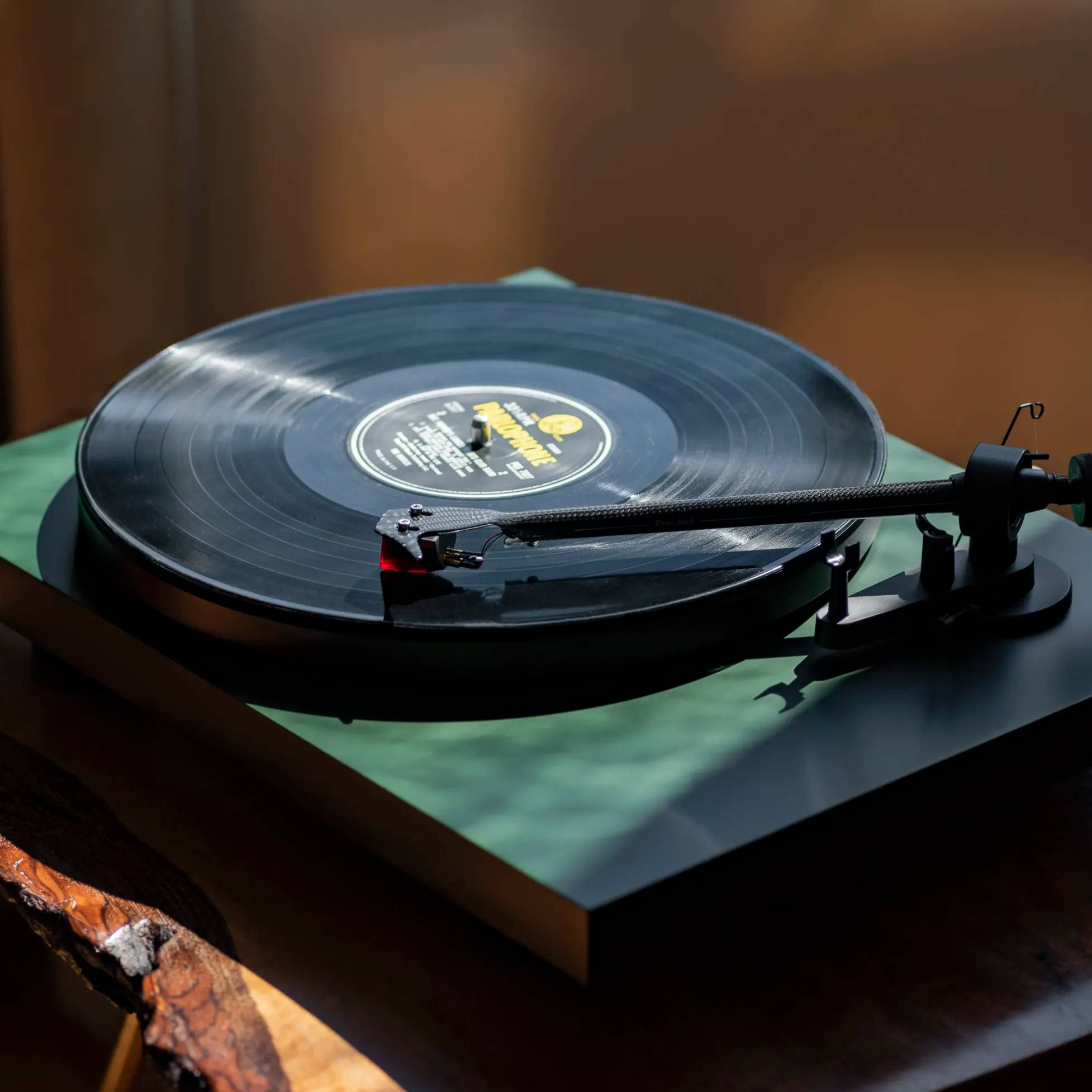 I'm going to be blunt here: if you can afford the Debut Carbon Evo, you just have to get it. It combines everything Pro-Ject's learnt about turntable design. The generous sprinkling of advanced features get us something worth hundreds above its asking price... this is a serious improvement!

A turntable is known in stereo-land as a 'source'. CD players and streaming devices like phones are also sources. It's where the music hardware or software is read and passed into a system for amplification and vocalising. Because it's where everything starts, source components are the most important part of any audio system.
If your music is read inaccurately or with distortion at the start, the other components are going to be limited in what they can do to keep things sounding sweet, no matter how good they are. The Debut Carbon Evo is a truly, truly excellent source. Various generations of this model have been in sound systems for decades, and it's something that can stay with you as you build your system up in the years to come.
Here's what's unique and special about its construction:
One-piece carbon fibre tonearm - a super-light and stiff effect so the arm can dance across your records and pick up the finest details.

Ortofon 2M Red cartridge, with an RRP of $189 on its own. This is a real step up in audio pick-up capabilities, delivering an open and dynamic sound with the right amount of warmth.

Improved motor suspension, allowing the motor to float in space so it can spin at an even speed and not mess with the pitch of your music.

Three height-adjustable, metal feet dampened with technical rubber to absorb shocks from the environment.

1.7kg heavy steel platter, also dampened with technical rubber on the inside. This is real materials engineering that achieves noiseless operation with an incredibly even spinning mechanism.

Electronic speed control switch to effortlessly move between 33, 45 and 78 RPM records.

Connect It E phono cable (with an RRP on its own of $99) comes as standard, just like with the Essential III.
"It's time for Evolution, according to Pro-Ject. Taking its most popular turntable design and altering almost every aspect, while at the same time increasing the price, is a dangerous game, but the Debut Carbon Evo is a triumph of calculated risk-taking that takes all the jeopardy out of buying your first deck."
Speed: 33/45/78 (electronic speed change)
Drive principle: belt drive
Speed variance: 33: ±0.50% 45: ±0.60%
Wow and flutter: 33: ±0.17% 45: ±0.15%
Signal to noise: 68dB
Effective tonearm mass: 6.0g
Effective tonearm length: 8.6" (218.5 mm)
Overhang: 18.5 mm
Power consumption: 4 W/ 0 W in Stand-By
Outboard power supply: 15V / 0 – 0.8 mA DC (set at 0.5 mA), universal power supply
Dimensions (W x H x D): 415 x 118 x 320 mm (lid closed)
Weight: 5.6 kg net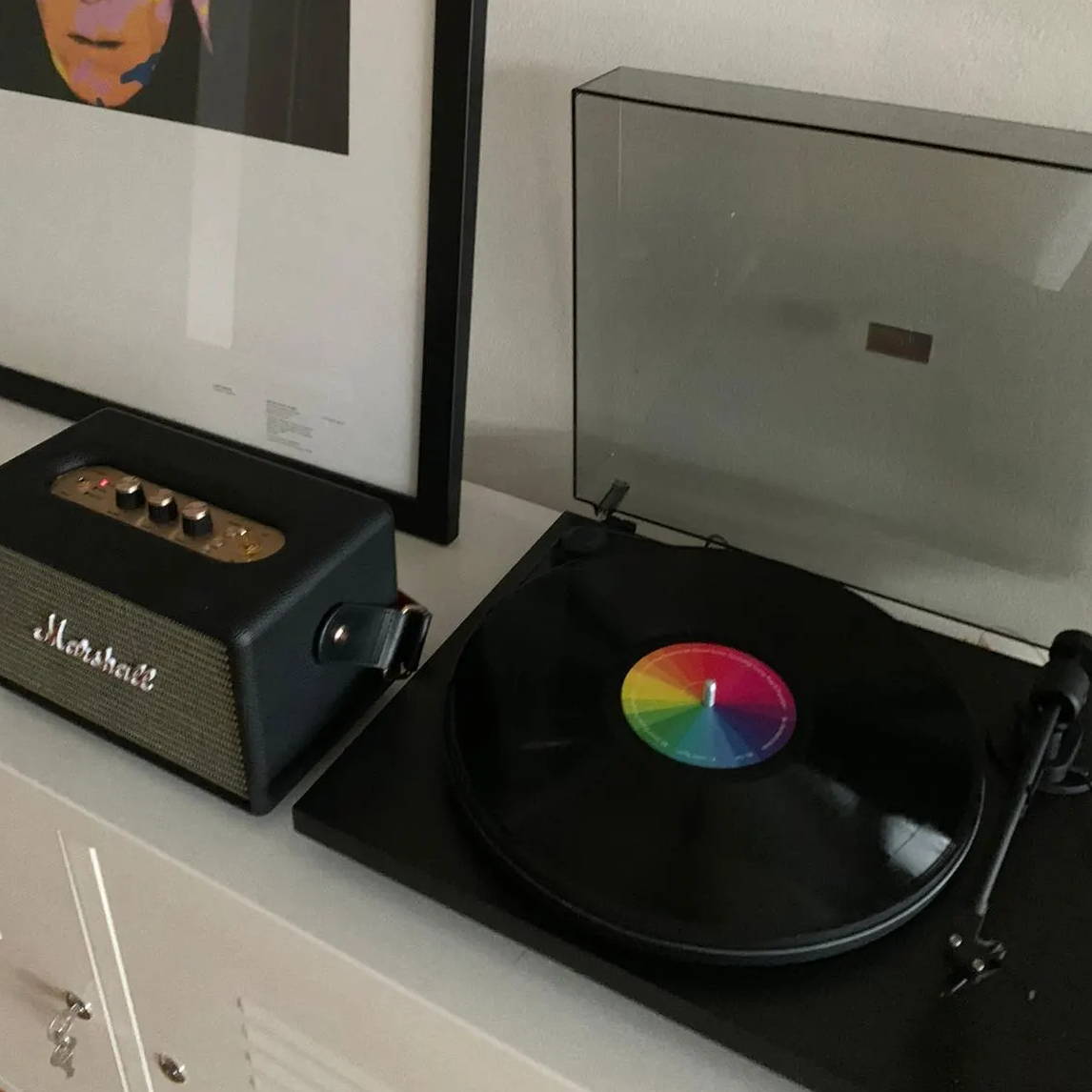 Chloe from Sydney got the Primary E with Bluetooth in July 2020. "I bought it for my roommate for her birthday and she absolutely loves it!"
"Absolutely loving the new Pro-Ject record player. I bought it for my roommate for her birthday and she absolutely loves it! It sounds amazing and looks great! Would highly recommend.
Also the service has been spot on, the team helped me through the whole process start to finish to make sure I had all the necessary components. Couldn't be happier!"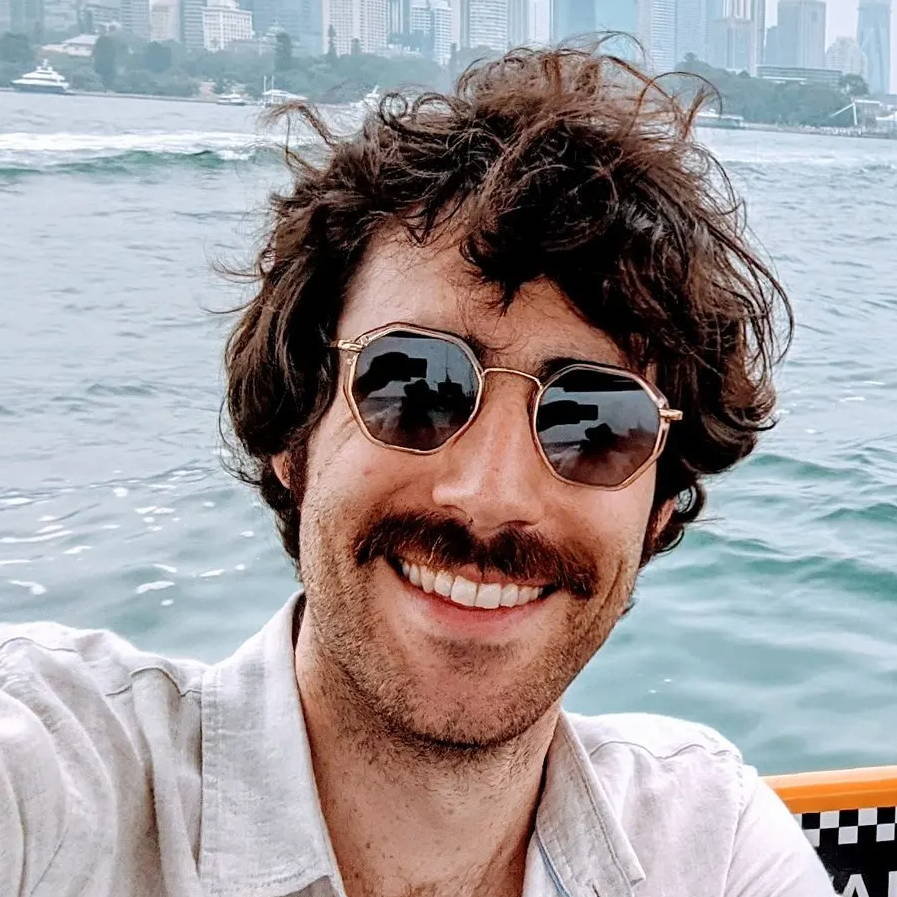 Rupert from Sydney got the Essential III with phono stage in June 2020. "Instant Classic are a rare example of beautiful, well-curated products, stellar service, and lots of heart."
"Instant Classic are a rare example of beautiful, well-curated products, stellar service, and lots of heart.
They helped me find the perfect turntable over WhatsApp, and worked with me to iron out a few technical issues (suffice to say, if hypothetically you vacuum up a vital component of your record player, you will be well looked after).
I can't recommend buying from these folks enough."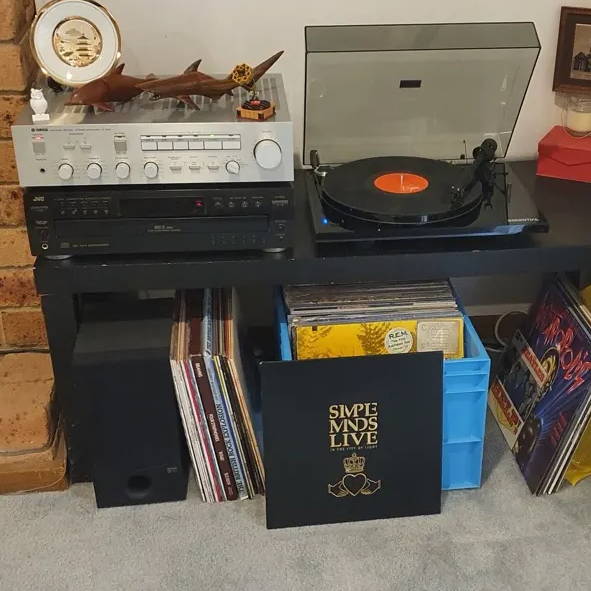 Daniel from Canberra got the Essential III with phono stage in June 2020. "... And a big bonus, my kids love listening to my albums too."
"Thanks Instant Classic team for your practical technical advice while I was researching which turntable to purchase.
It made my purchase all the more easy with great service, delivery and now I have the ProJect Essential III Recordmaster spinning my old vinyl.
Set up was easy and the sound is just what I hoped for. And a big bonus, my kids love listening to my albums too."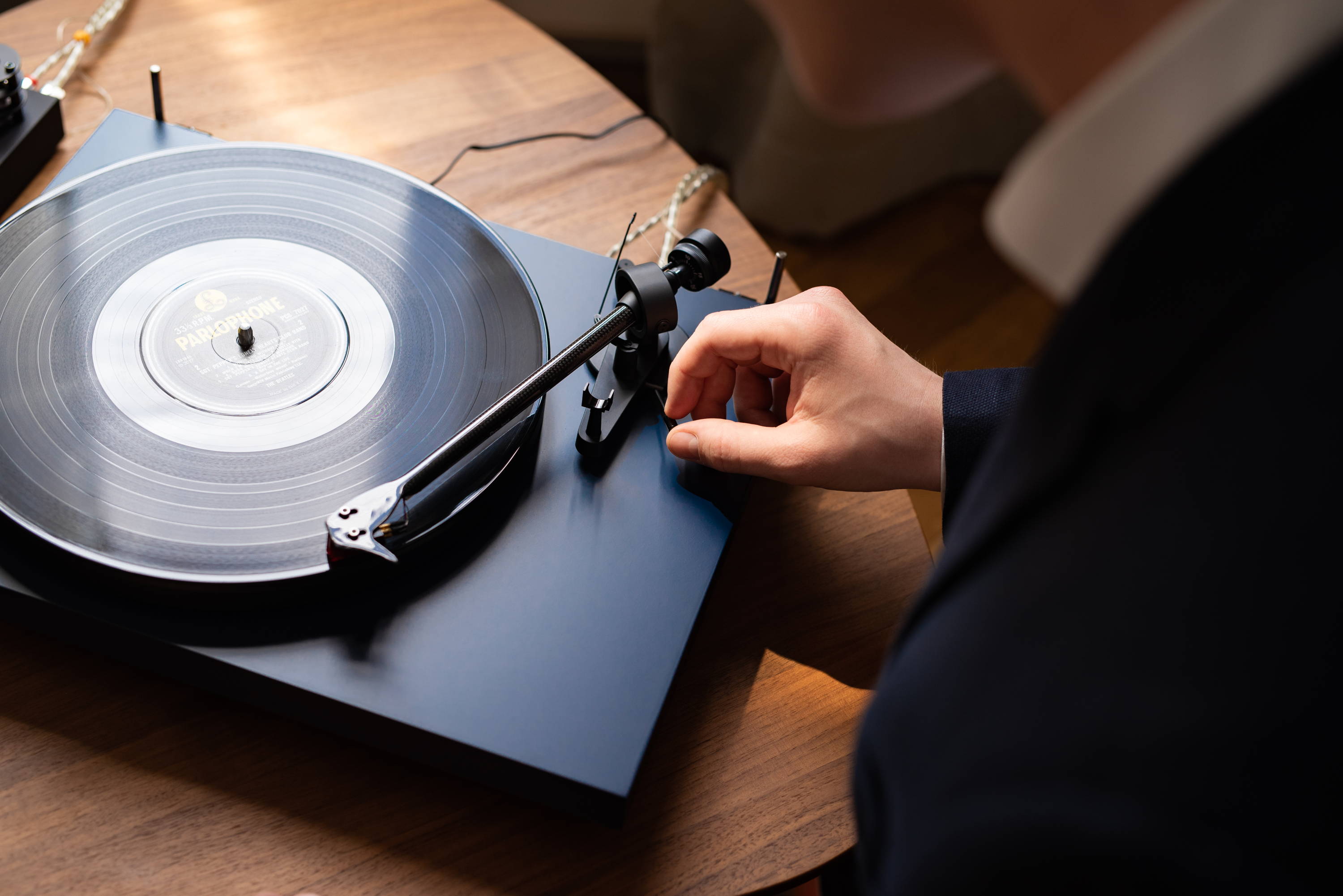 Debut Carbon Evo in satin steel blue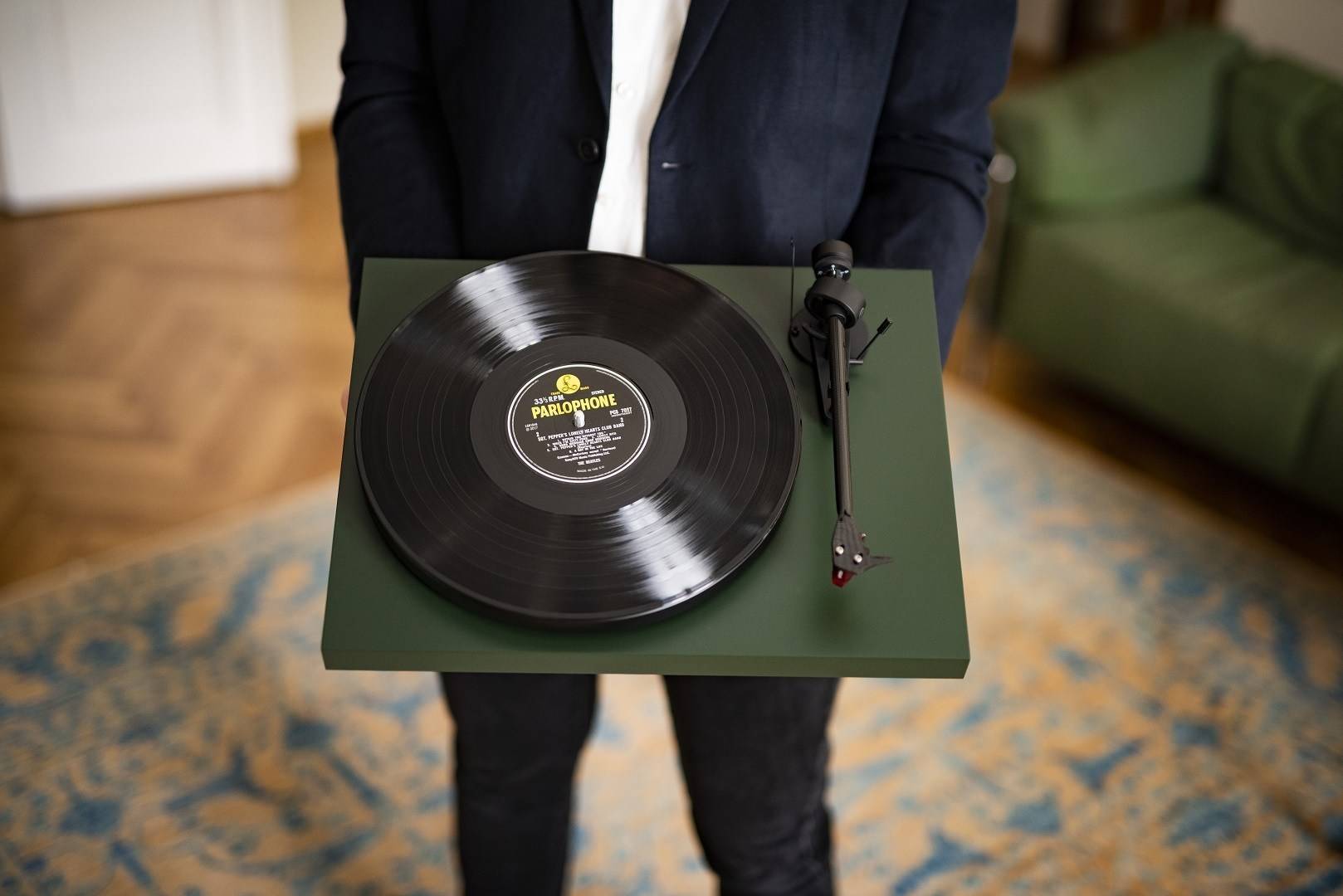 Debut Carbon Evo in satin fir green (my favourite!)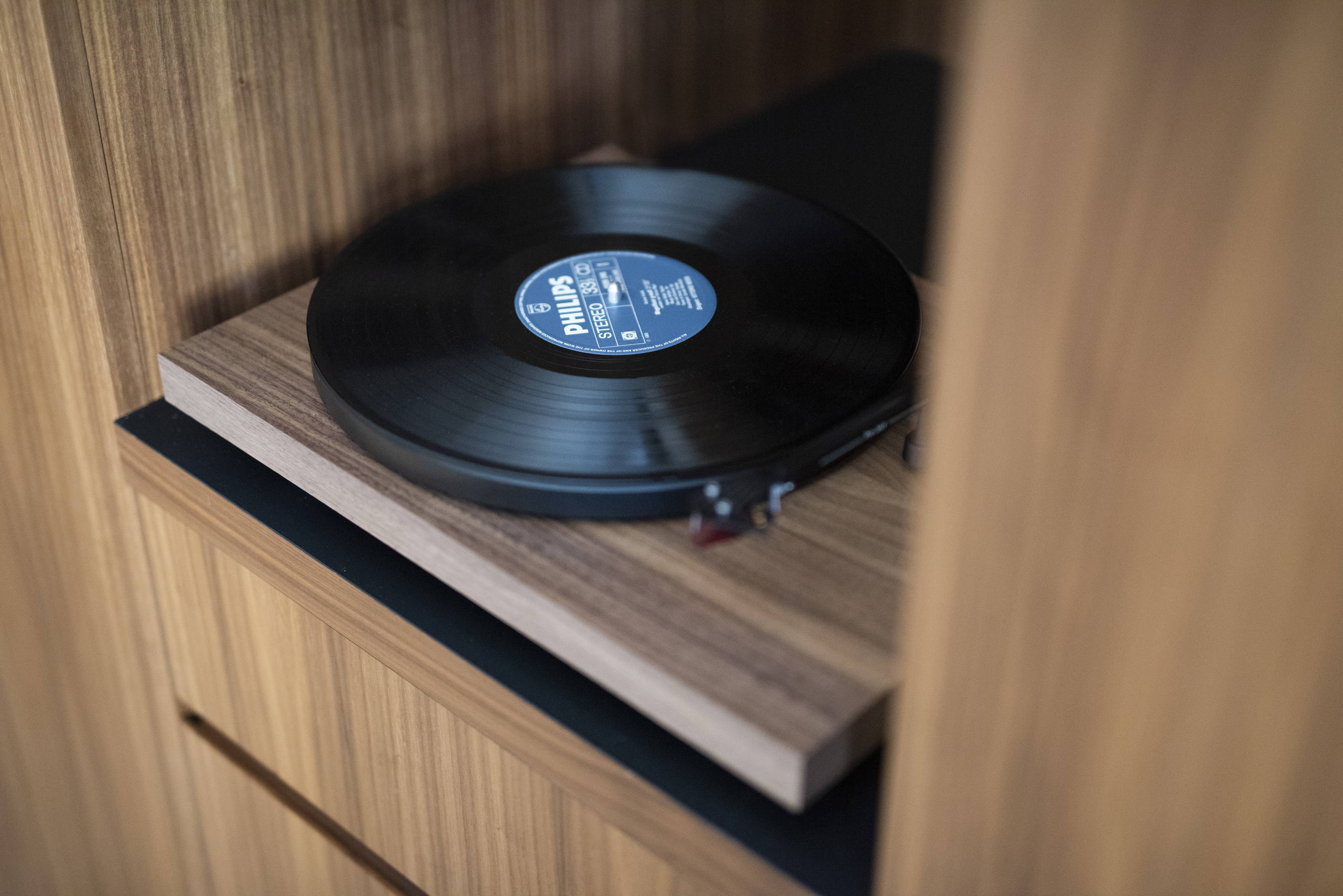 Debut Carbon Evo in matte walnut (this is a real wood veneer)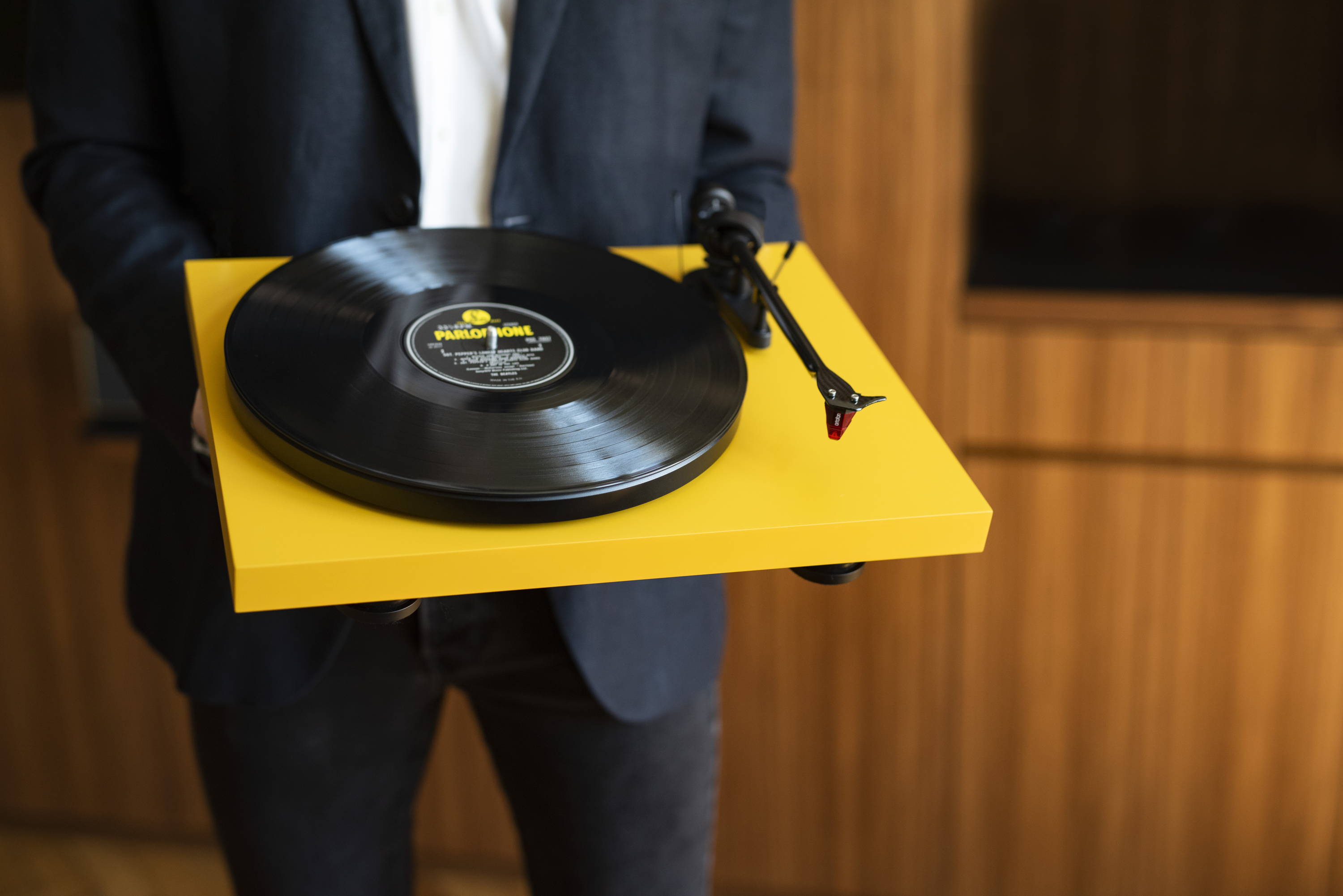 Debut Carbon Evo in satin golden yellow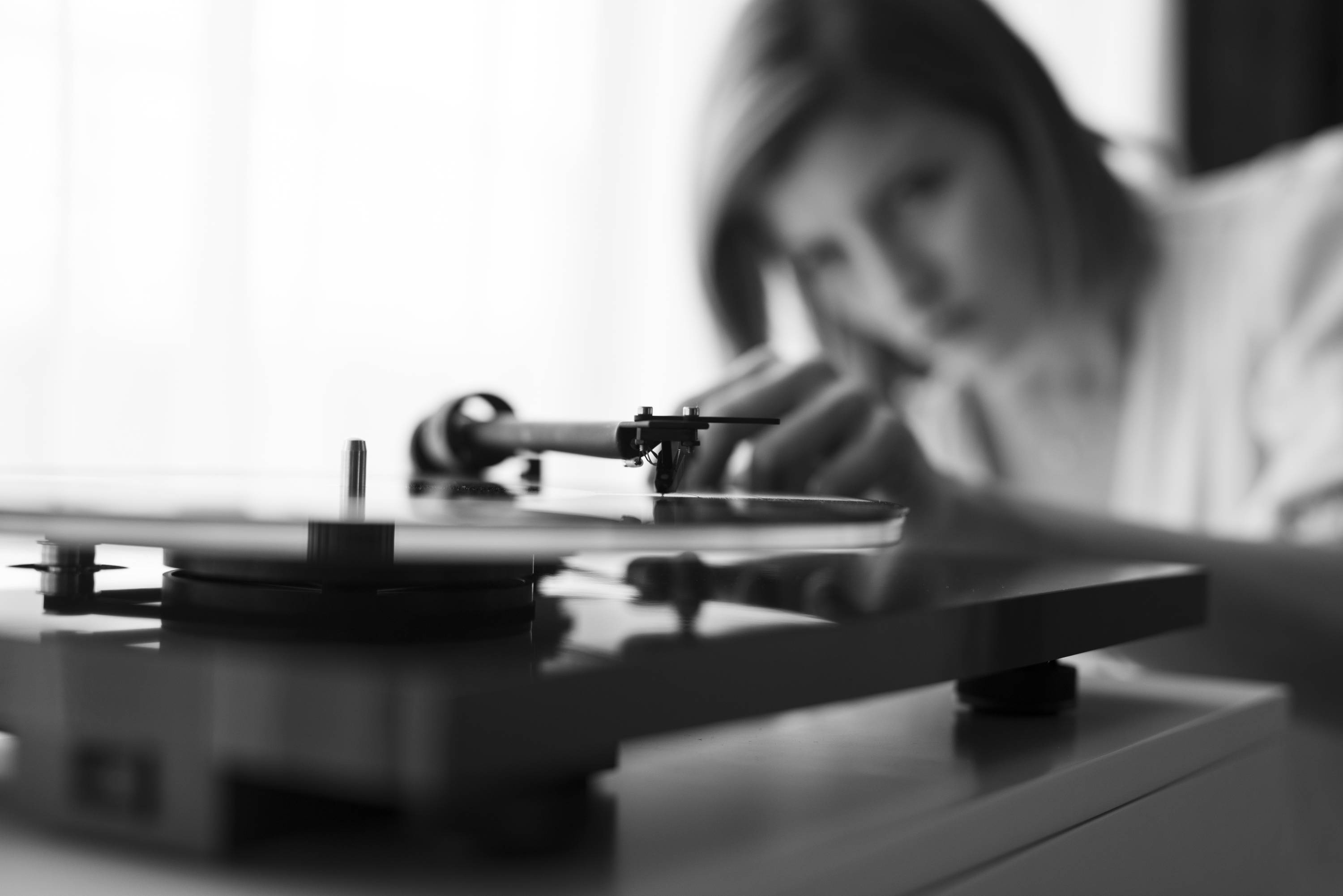 The T1 side-on with its glass platter (which comes as standard) looking splendid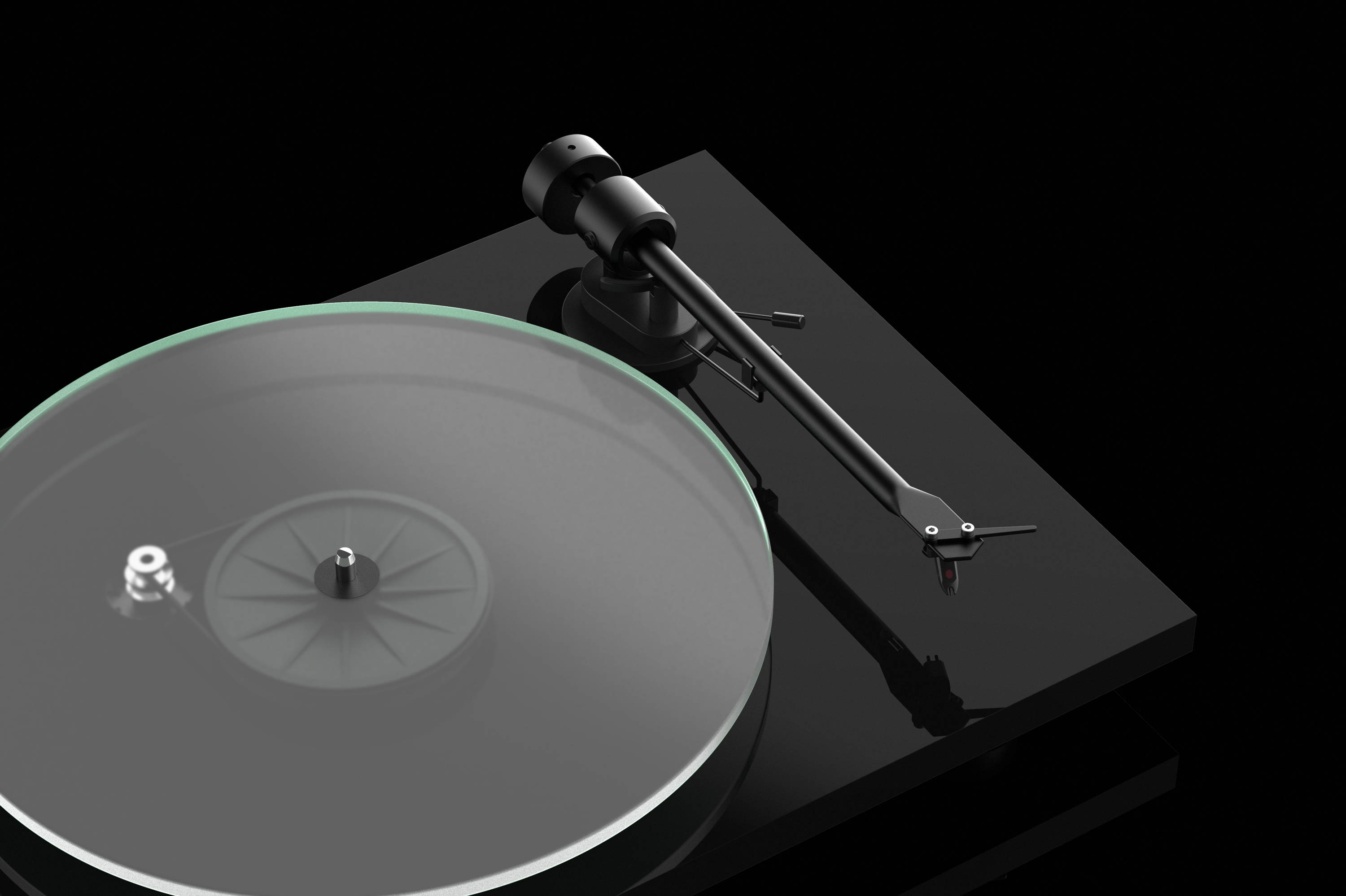 Aerial shot of the T1 in gloss black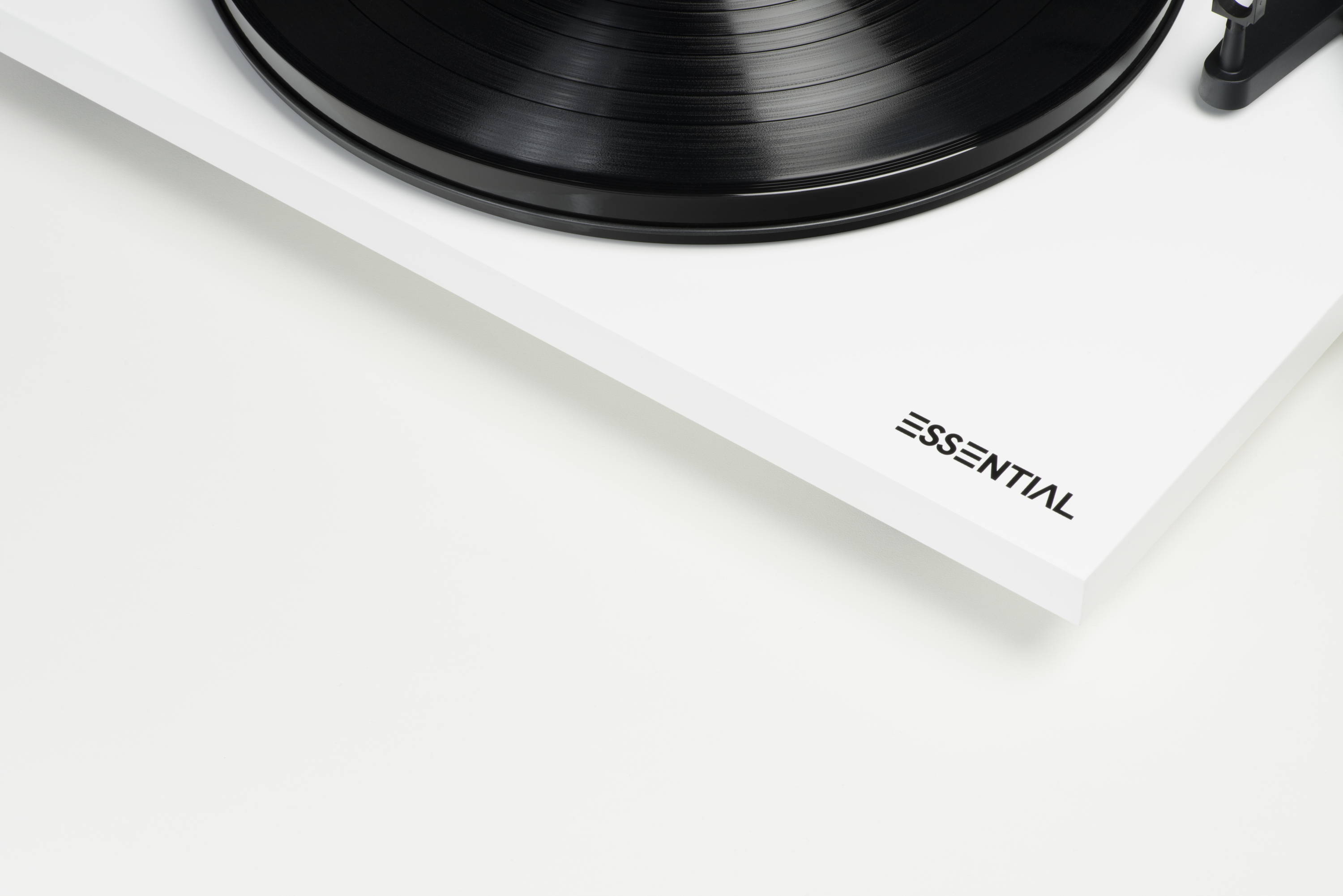 Essential III in gloss white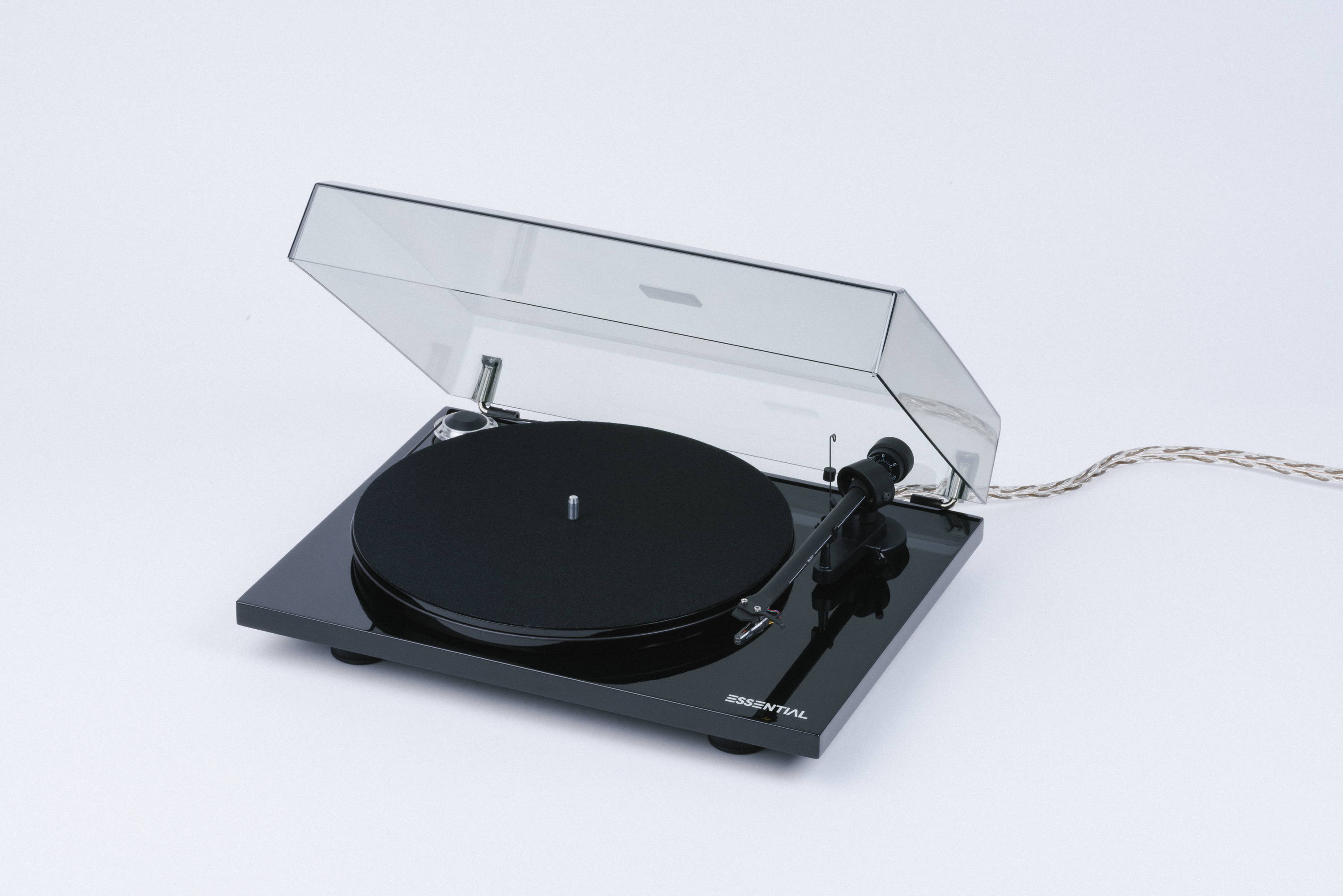 Essential III in gloss black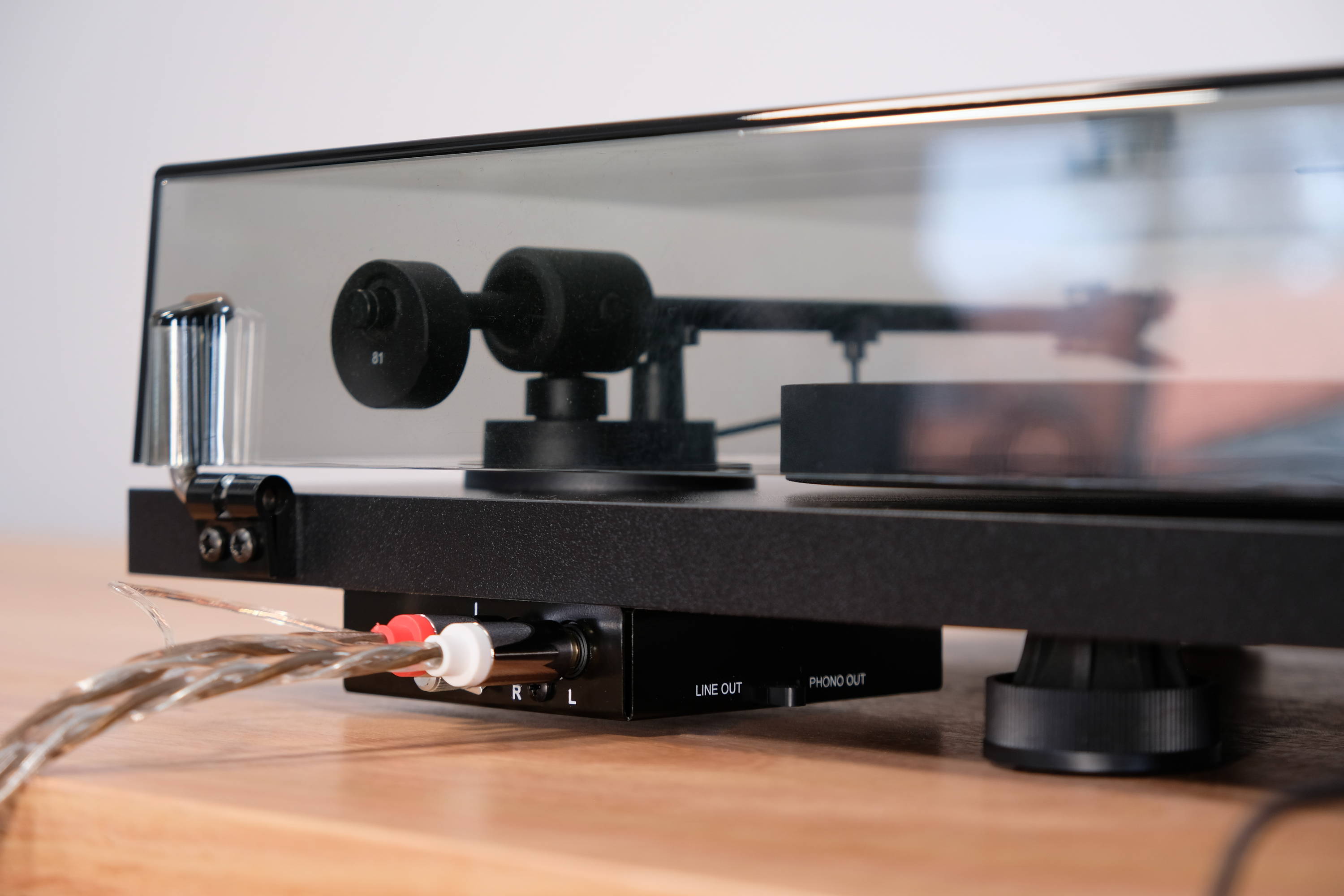 The back of the matte black Primary E - this is the 'phono stage' version which has this element built in to the underside; a dust cover/lid comes standard with all of our turntables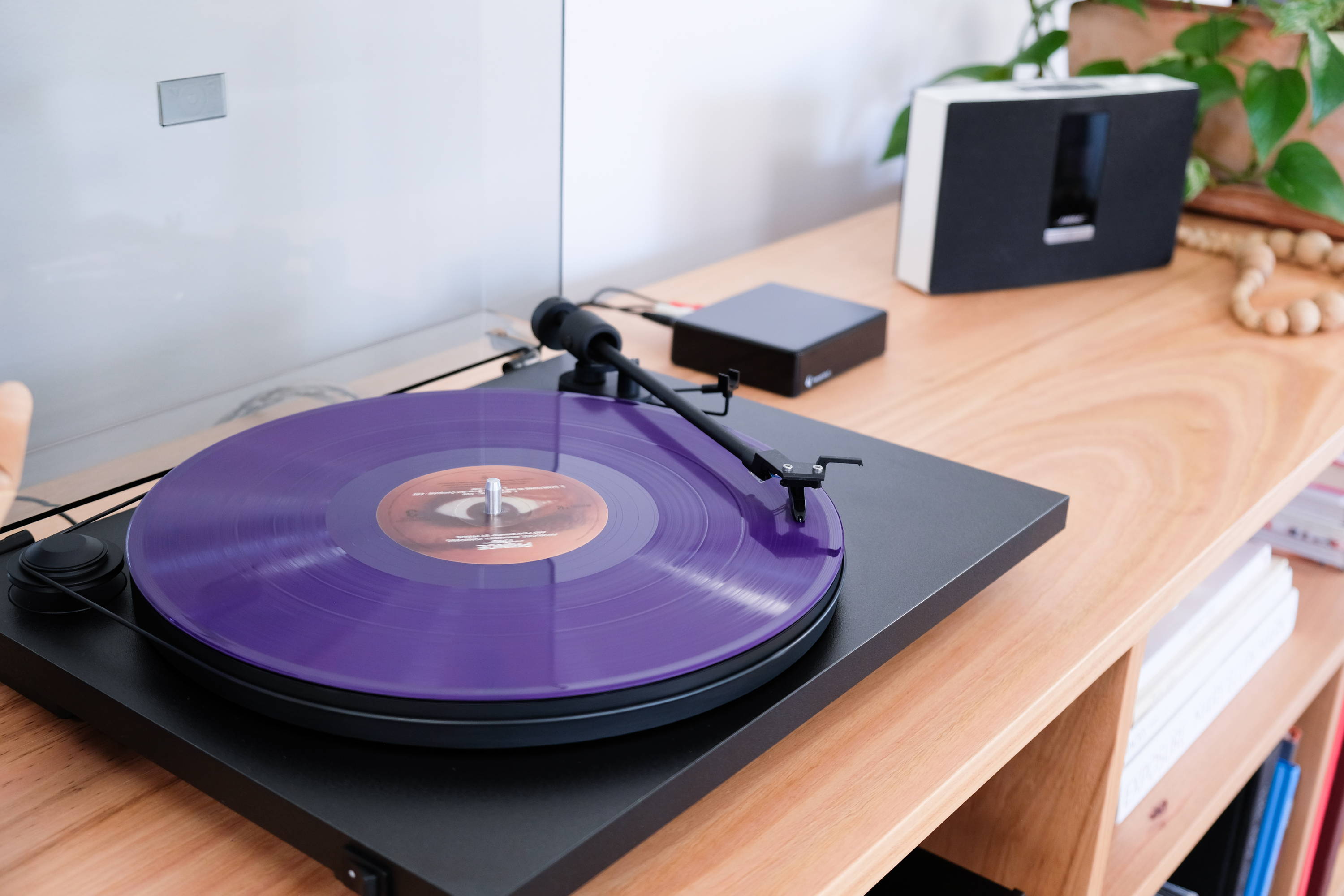 Primary E in matte black with the optional Bluetooth sender option to the right; this plugs in and sits near the turntable and wirelessly sends the record signal to your Bluetooth speaker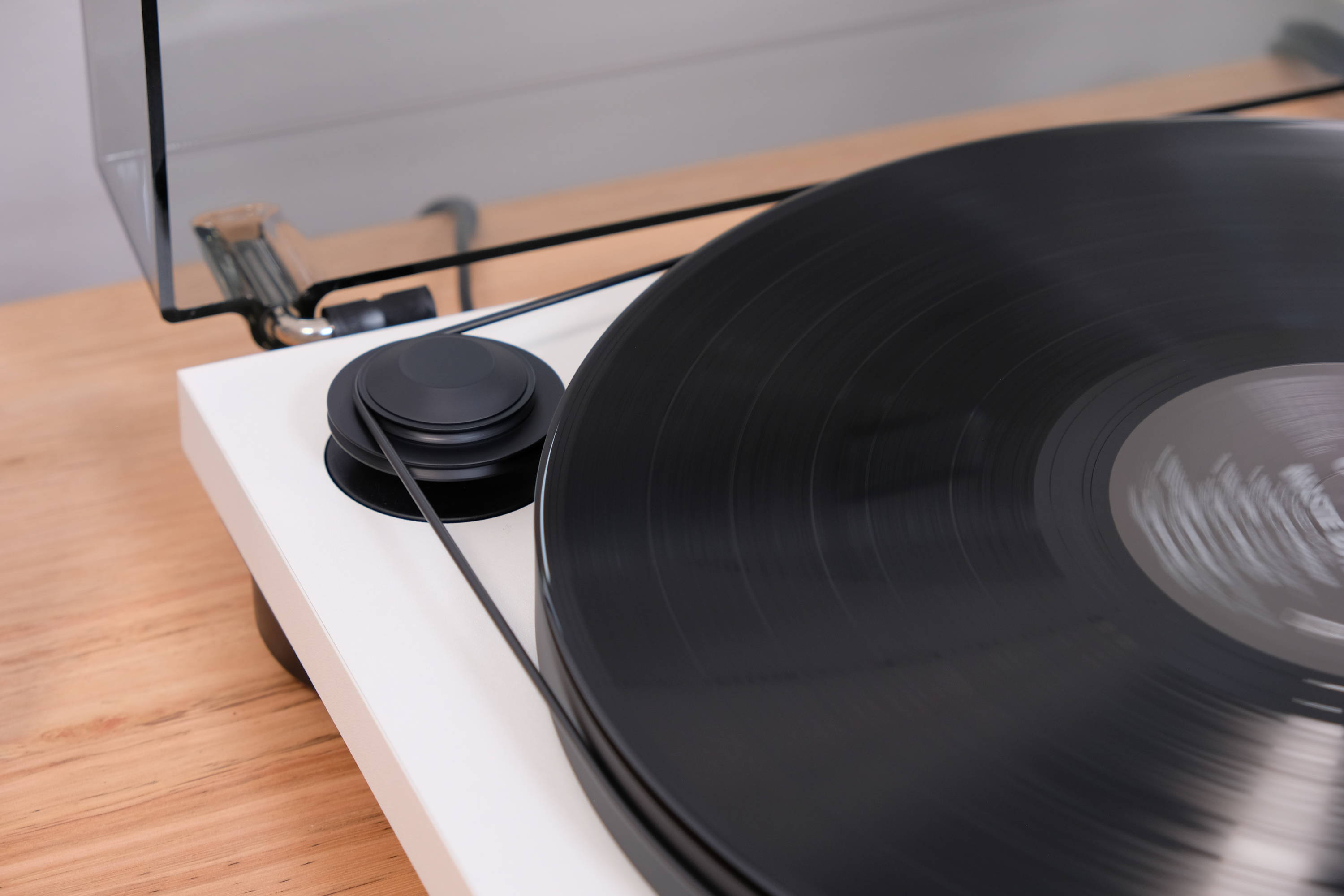 Close-up of the manual 33/45 speed control on the matte white Primary E - if you want to play 45 format records, just spend a couple of seconds moving the belt to the other rung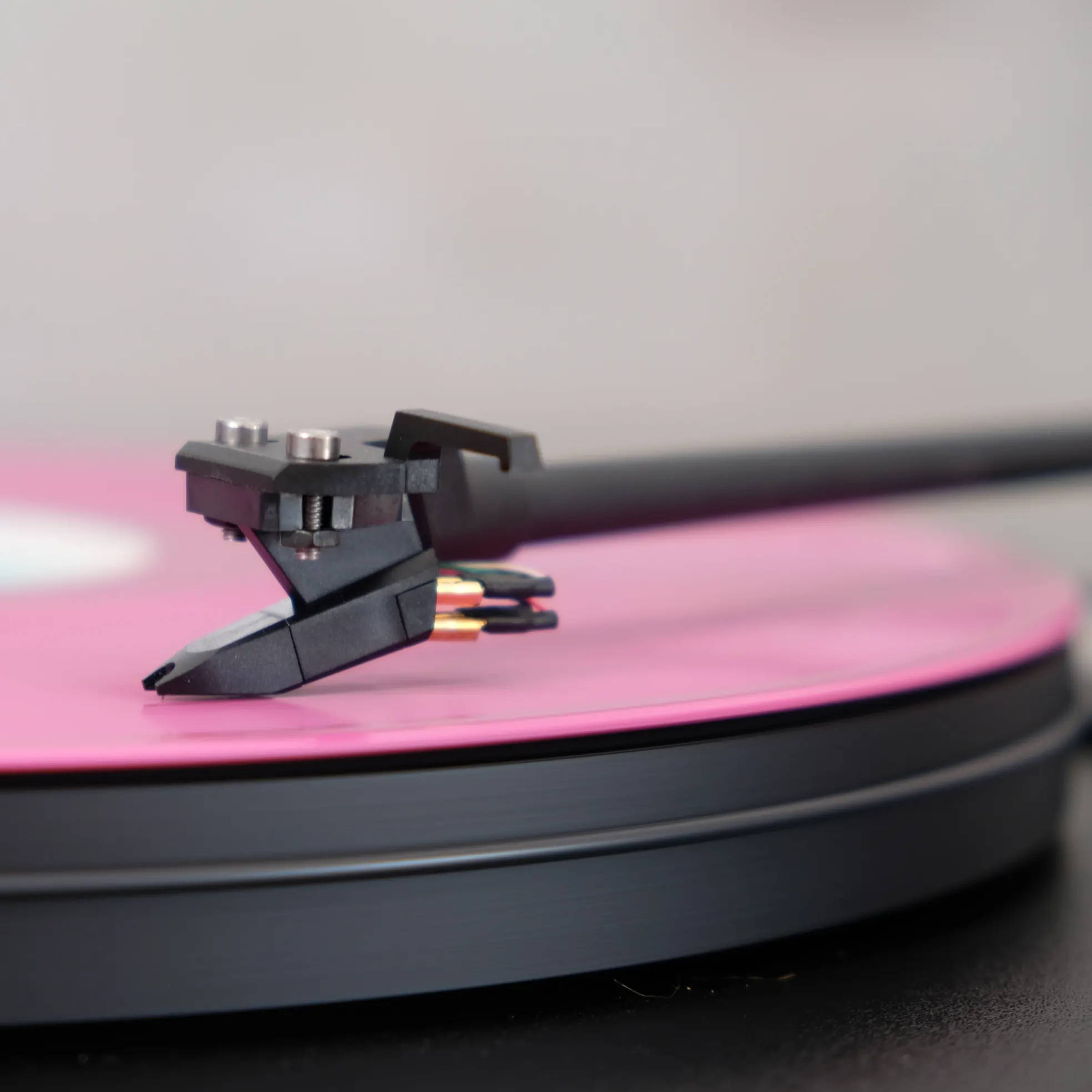 We allow refunds and exchanges for any reason within 30 days, even after you've used the turntable. Because ultimately, we want you to be happy. Return policies that expect things to come back 'as new' kinda suck, right?
If this turntable doesn't meet your expectations and give you the sound you'd always hoped for, no problems. We want you to be satisfied. So get in touch within 30 days, and we'll arrange a refund for you.
If you get your turntable and do want to keep it but wish you'd got another colour or configuration, or even decide you want to upgrade to a full system from us, you're in luck. Just get in touch within 30 days of your original invoice, and we'll take care of everything!
If you decide you want to get a refund or exchange, we'll arrange for a free return postage slip so you can drop the turntable off at the post office. No printer required - just show your phone with the barcode we send to you. Once we receive it, you'll get a full refund, and we'll find another home for it as a second hand item.
If you do want to keep the turntable but it's given you a taste and you just have to get a full system from us (many customers have gone down this path), just tell us within 30 days. We'll gladly send you the top-up equipment you need and bill you the difference, making sure you don't pay anything more than if you'd bought that system at the outset.
Either way, make sure you keep all of your packaging in case you do want to request a return; the product can't travel safely without it.
We're not a big ecommerce business who's hard to reach and doesn't care. One of the reasons we started IC is because we hate that nonsense!
Think of us more as buddies here to help with your audio. Whether it be on WhatsApp, livechat, mobile or email - whatever suits.
You'll talk directly to one of our team in Australia. No lousy bots or queues, and you'll usually hear back within an hour during opening hours.
The relationship can start before you buy - we're online to give you the right guidance, even if that means not getting one of our products.
It's important that we see you with the right solution, and that won't always mean buying something from IC.
2 year warranty & lifetime love
All of our turntables come with a 2 year Australian manufacturer's warranty, honoured by us as an authorised retailer. That'll protect you against unexpected defects and breakdowns (not caused by physical damage).
If anything happens, just get in touch and we'll get it sorted. Faults are pretty uncommon thanks to the quality of our components, but if something does play up, we want you back up and running!
Realistically though, that kind of warranty is par for the course these days. What's more important is the support you get from your retailer for set-up help, troubleshooting and just general advice as you go.
That's where I like to think we excel. We're here to help you for the lifetime of your product, any day of the week and for any question.
If you want some extra protection for your purchase, we offer Instant Umbrella - two years of cover provided by us for unlimited accidental physical damage to your sound system. Available on the next page when you place your order.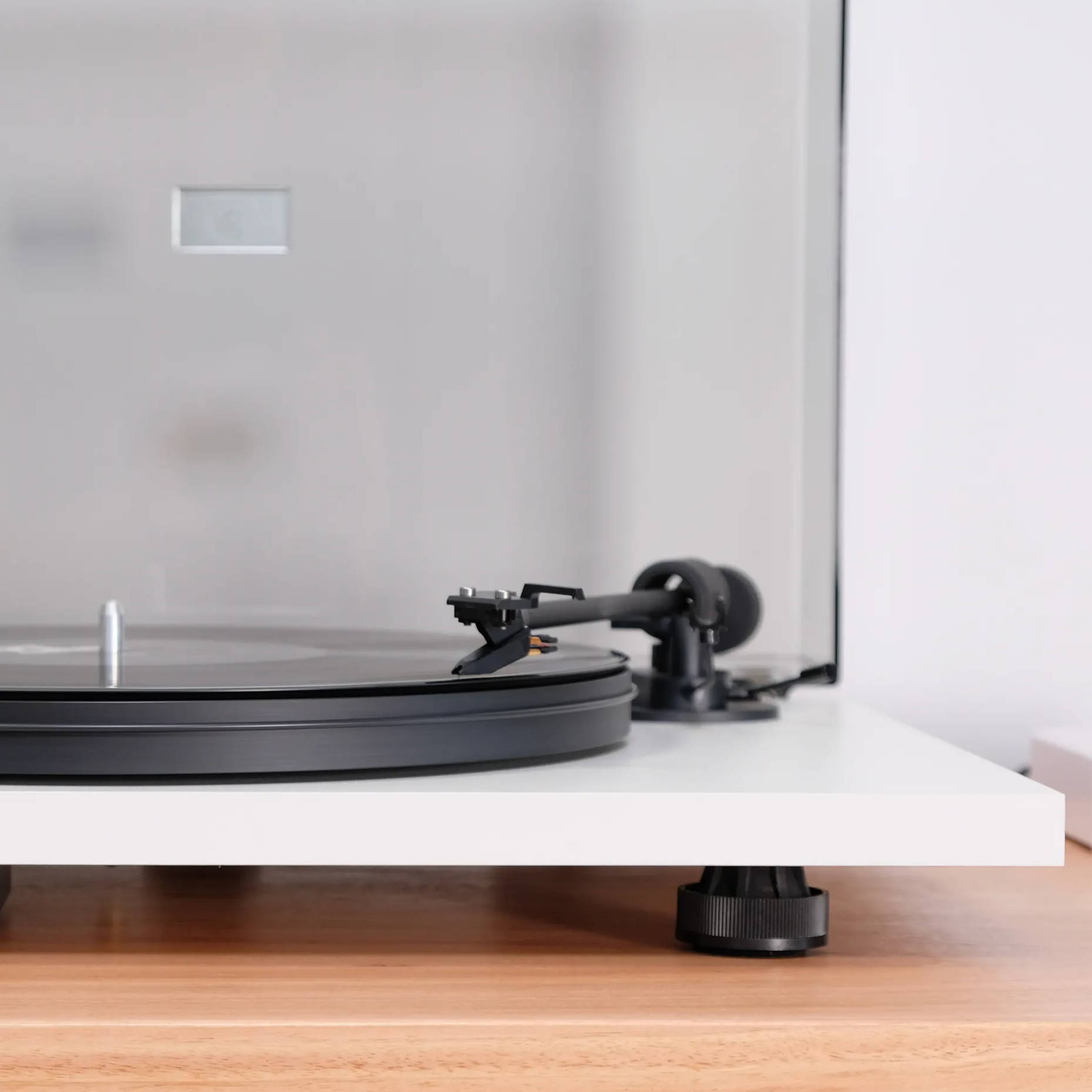 We don't just want you to have a beautiful turntable... we want to make it easy for you to own. That's why our shipping, payment and returns processes are designed to make shopping with us a lovely experience.
No matter where you are in Australia, we'll send your turntable to you registered and insured with no freight cost.
Alternatively, when you go through checkout, you'll see an option to get your product delivered to one of our partner record stores in Melbourne, Sydney, Brisbane, Gold Coast or Perth.
A convenient way to pick up your new turntable, and a great chance to visit a local record store. New cities will be added over time.
Despite COVID-19, things are running pretty smoothly!
We ship from Melbourne via Australia Post, and most orders are getting to Australian capital cities in 2-3 working days for everywhere except WA and regional areas (which are more like 5-7 days).
Things are still a bit unpredictable though, so we can't give any guarantees unfortunately.
Yep, yep, we accept Afterpay, Zip and PayPal, because you're worth it.
And of course, we take normal Visas and Mastercards. Remember them?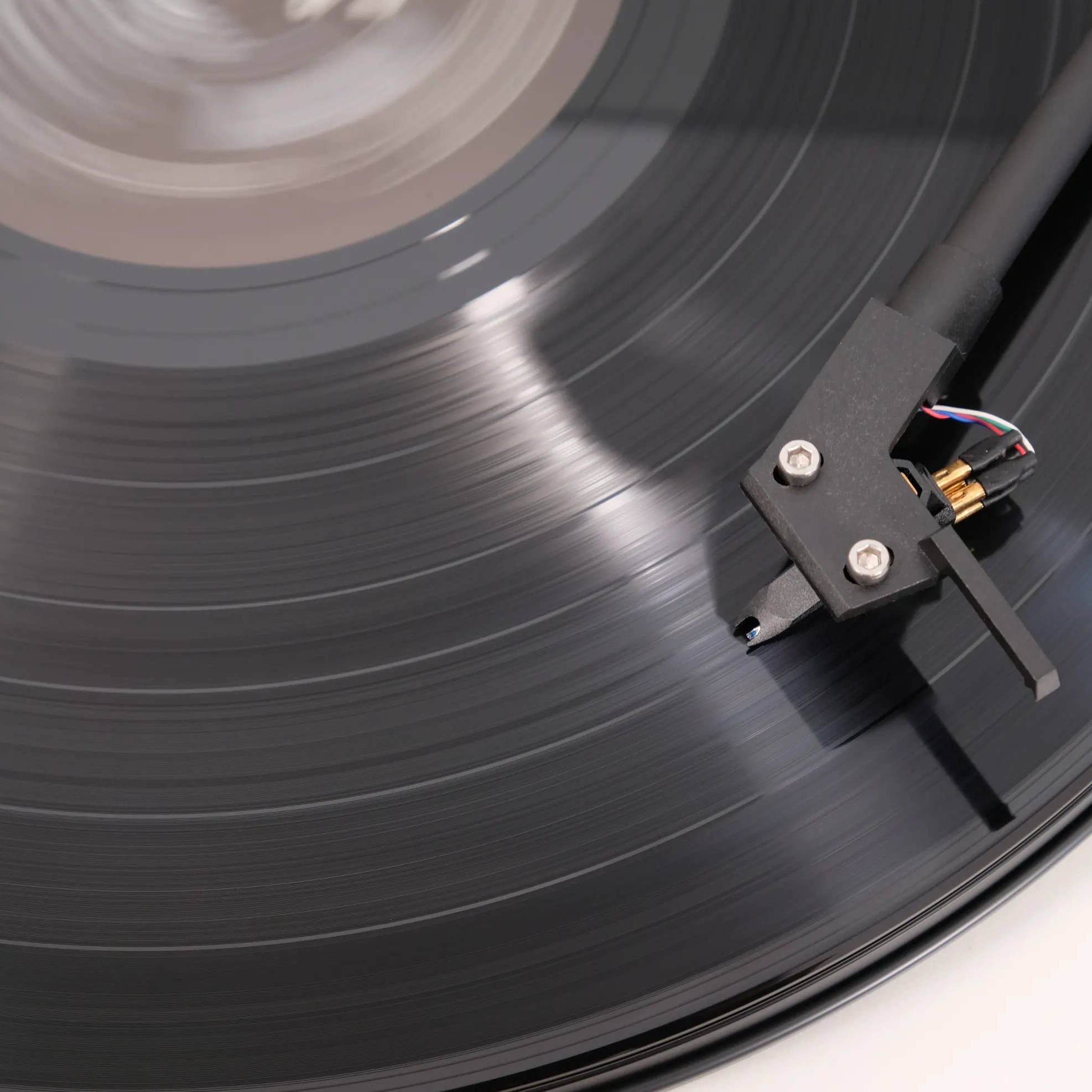 Mass-produced plastic devices that become defunct after a few years aren't nice. With upgrades, care and innate quality, our turntables can last decades. That's good for the environment and your pocket.
The manufacturer of all of our chosen turntables, Pro-Ject, is independently owned and producing its product with skills built-up over decades.
Wood and metal are prioritised over plastics, and the manufacturing process involves ethically-employed and skilled workers. Most assembly is hand-performed rather than robotic.
Long-lasting & upgradeable
Component audio as a philosophy is an inherently sustainable one.
Quality products of this nature, with love and care, are designed to last decades, not years.
When you decide you want to upgrade or add an element, you don't have to throw anything away. Just add your new component, and any piece you do part ways with can be given to someone else to enjoy.
This is the slow-food of music systems. Stay away from fast food!
We're really conscious about the footprint of our supply chain at Instant Classic, and are constantly working on ways to shrink it. The nature of the products we choose certainly helps, as do operational considerations like efficient shipping and waste minimisation.
While our products use a small amount of plastic compared to some of the more crude and disposable audio products out there, the packaging still contains plastics and foams for protection during freight.
We're always bugging our suppliers about transitioning to more environmentally-friendly materials, but in the meantime, we're doing what we can ourselves by buying plastic offsets for every product we sell. Find out more about the program and our general sustainability credentials→.
Australia's best returns policy
I've already mentioned our rad 30 day returns policy, and again you might be wondering why it's being talked about here. Well, because bad returns policies - and ecommerce is full of them - are incredibly wasteful.
Since COVID-19, we're all shopping online more. It's convenient, yes, but there's so much extra waste created (I just read that household rubbish has gone up 20% in Australia since the start of the pandemic). Part of that is things we bought and found weren't right for us but we never sent them back.
Our 30 day return policy applies even if you've used the turntable. In fact, it's designed so you can. We don't want you holding onto a product that makes you unhappy, and you're only going to be sure of that by playing with it.
In case you're not a fan for whatever reason, just make sure you keep the packaging and keep the products in good working order. We'll organise a free pick-up and a full refund once it's back.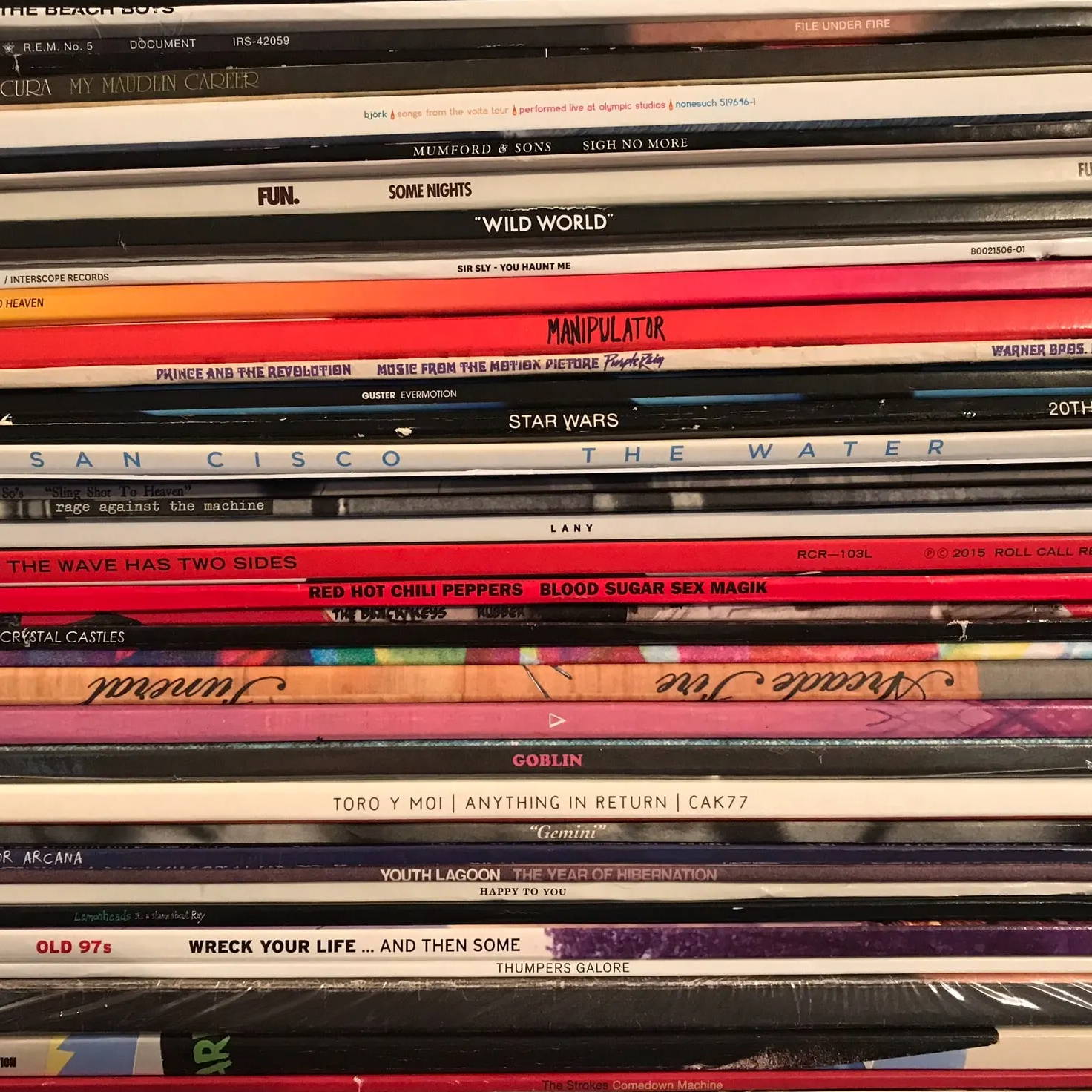 We take a look at the different ways to do the important work of keeping your records and stylus clean.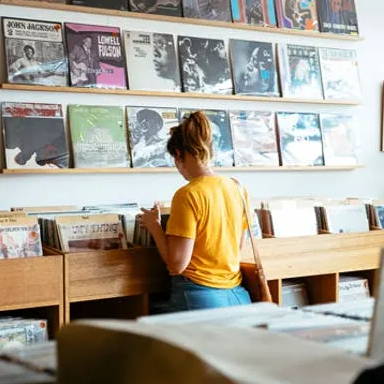 Since many of our visitors are at the beginning of their vinyl voyage, we thought it'd be helpful to have a starter's compass.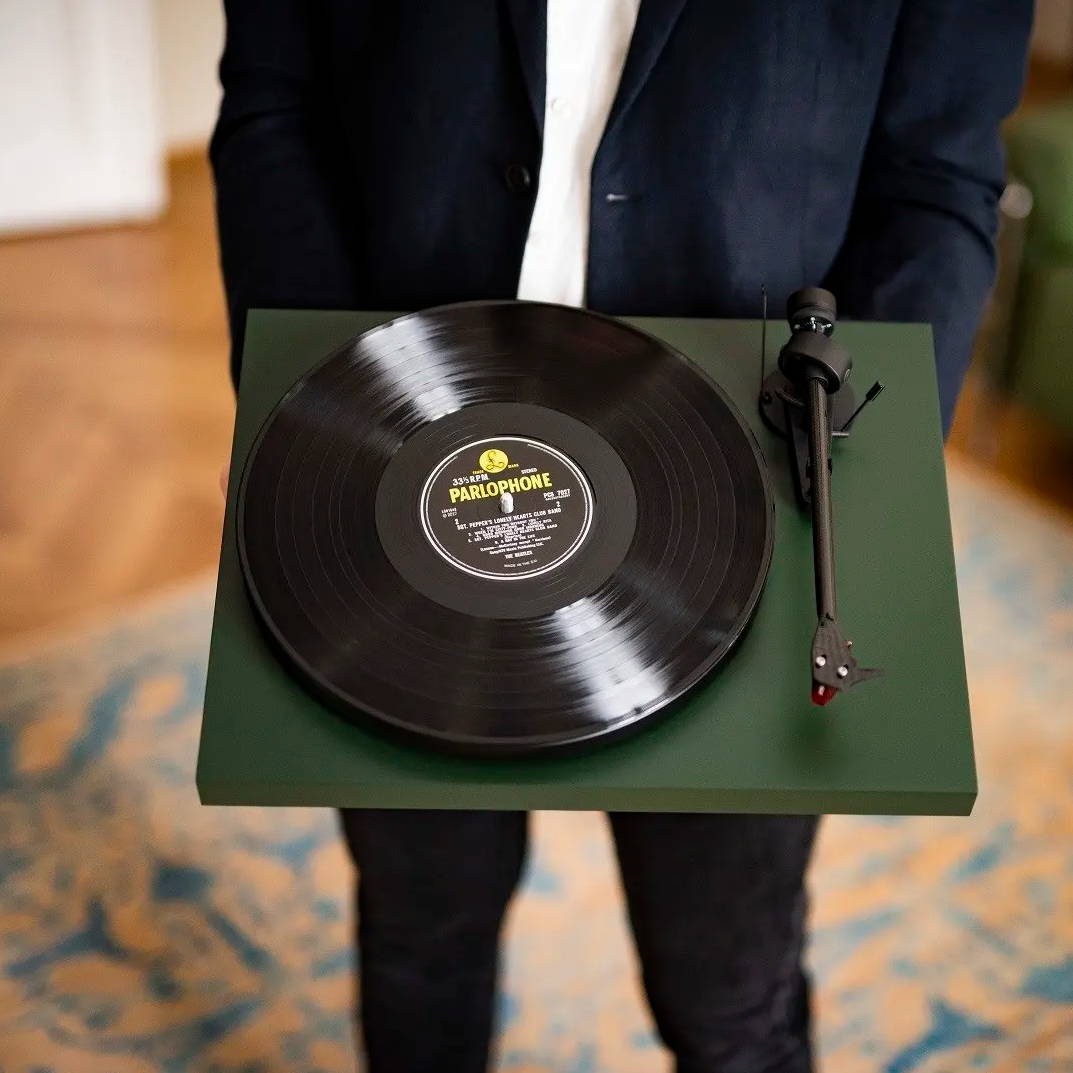 Let's look at what features are critical in any turntable if you want long-lasting sound quality, even if you're on a budget.